Have you been to a Murder Mystery Meal?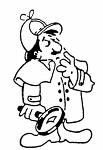 May 30, 2007 6:11pm CST
My husband and I have been invited to a Murder Mystery Meal this weekend. We have to stay in character all evening and try to work out Whodunnit. My character is the girlfriend of a character that is not being played by my husband! It is based on a 60s evening. Have you ever been to one? It you did a 60s one please don't tell me Whodunnit or is the answer different everytime so people can go more than once?
3 responses

•
31 May 07
I've never been on one but have seen them on TV. It sounds like it will be great fun and a complete change from anything you will have done before. Have fun and enjoy yourself.

• United States
30 May 07
I love those things! They are so much fun, especially if you participate! (Although it can be fun to watch, too.) My dream is to go on a murder mystery cruise and be a part of one that lasts more than a couple of hours! Enjoy yourself!!!

•
30 May 07
I am shy so I hope I can stay 'in character' long enough. It might be better than being myself as I can always pretend if something goes wrong that it was just my character!

•
3 Jun 07
It went really well. Everybody played their part but nobody was too serious. There was a lot of teasing as the owners of the house had to keep doing the serving but were not supposed to be the 'hosts' of the party. Several people had to refer to the booklets about what they were supposed to say or not at various stages. It was just a bit too obvious who the killer had been. The butler, of course!

• United States
4 Jun 07
Glad you had fun! That is what it is all about. Thanks for BR.

• United States
30 May 07
it going be the worst dinner you ever had in your life. it going be 2-3 hours long with people trying to find out who is the killer. it going drive you crazy and make you want to kill someone yourself. question after question about the same mess. people around you will get bored but, will feel like they have to go with the game to make the host feel happy.

•
30 May 07
I hope not. I know the group of people going and think it will work out ok. Shame you did not enjoy yours. I can always just enjoy the food and drink and get so drunk I don't care anyway.

• United States
30 May 07
haha true get drunk very drunk! I was with my friends and family. And was going crazy! i tried to get drunk but my brother beat me to it. and i had nothing else to do but listen to crazy question and the stupid answers. i could say i had family problem or girl problem and had to leave because they were there!