how efficient is helmet in protecting your head

India
4 responses

• India
1 Jun 07
Helmets are quite useful in protecting head. An important thing to consider is that a helmet should be of high quality and certified by a competent authority. If the helmet is of poor quality, in some cases it is more likely to cause injury than protect you, in case of an accident. I know of several cases in which helmet saved the head of the driver. Even a good helmet may be somewhat uncomfortable, especially in summer. But when it comes to safety, comfort ought to take back seat. Go for helmet!

• India
1 Jun 07
from today there is a law tht they must be used hope people take safety seriously

• India
1 Jun 07
They should take it seriously in their own interest. Law is made for the benefit of people. It is sad that such laws have to be implemented by threats; people should themselves take initiative and obey the laws. Even if there is no aw, people should wear helmet.

• India
14 Jun 07
the pliticians dont take a strong hand in this law, when people protest they are flexible

• India
18 Jun 07
yeah i really encourage u

• India
19 Jun 07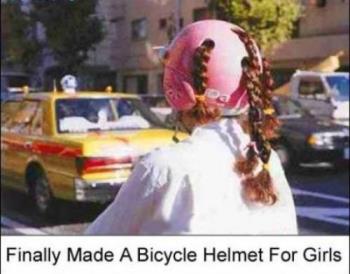 thx for the encouragement, and ur avatar looks so cute. here is an best idea for woman who want to wear a helmet

• United States
31 May 07
A helmet is the best way to protect your head. And yes they are comfortable. We wear one everytime we go ridding on the weelers. My kids wear on when they ride there bikes. Remeber you only have one head and if you brak it thats it your done for!!! Helmets are a GREAT idea.

• India
1 Jun 07
true only one head and only head to think of safety too but people dont realise tht and go for cheap once which are useless

• United States
31 May 07
Yes, I think that helmets are vital if you intend to ride a motorcycle or any type of recreational vehicles. I make my daughters put helmets on before they can even get their fourwheelers out.I have to make them or they would ride and never think about how serious of any injury you can get by riding things like that.

• India
1 Jun 07
but then other injuries too can be fatal. anyway protecteing head is imperative and most of all one should be careful