My First And Last...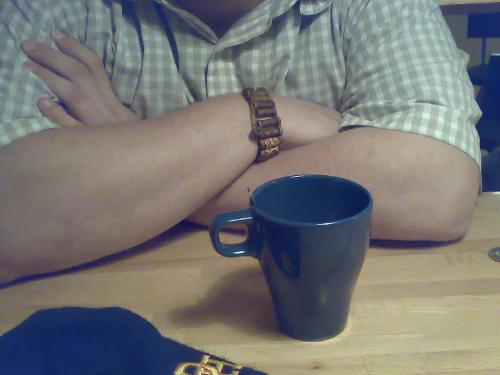 Sweden
June 1, 2007 2:00pm CST
i am suffering from ischemia since i was 13 or 14 years old. and one advice my doctor told me is to not drink too much coffee because it will affect my breathing. but weeks ago, i felt like i wanna stay up all day on myLot. like i loved to just read discussions all night long and respond to them. i felt so energetic and to keep me awake, i took lots of cups of coffee for just 3 hours. i guess 4 cups of strong ones. later, i could not breathe well already and started feeling so bad. so, i took my emergency medicines and laid in bed until i fell asleep. that's the first and obviously the last time i will drink lots of cups coffee. i don't wanna suffer from it again!how about you, what was your first and last promises?
10 responses

• Philippines
3 Jun 07
my last promise is to to easy mylotting again. as of now, i have been pounding on the computer so much. just last month, this habit just simply got over me. i just can't help it, i kept on making and spending lots of hours doing this mylotting thing. i have to ease out again. just like those days when i was still new here. i don't know why i am doing this. the money i get is much too small. i wonder if it is because i am really having some funtime doing this.


• Sweden
6 Jun 07
just to let you know gabs why people just walk all over you is that because you are a gentle person. people abuse you. and i hate those kind of people.

• United States
5 Jun 07
That would be a Great reason for you to definately avoid Coffee from now on. You know there are Energy drinks out there that you might be able to drink that for me work a lot better than Coffee ever did. You might consider looking into these and trying one of them next time and see what your results are.

• Sweden
6 Jun 07
thank you so much krausehome. that's sweet of you so tell me. i do appreciate it a lot. and yup. there are lots of energy drinks out there better than coffee which is good for me... i guess i am too lazy to just buy them and since coffee is always at home and cheaper, i tend to choose coffee over them. result? i suffer after. hehe

• Hungary
2 Jun 07
I think that you are addicted to Mylot too much. That may be the bigger mistake, not the drinking those cups of coffee. I often make promises to myself but I rarely keep them, though I always keep my promises to others.

• Sweden
2 Jun 07
thanks dolcerina for the reminder. and yup... i am addicted to myLot. and even in ordinary days when i am not myLotting but taking more than a cup of coffee per day, i suffer from difficulties in breathing, too.


• Sweden
1 Jun 07
hello cher. ischemia is one kind of heart disease. sorry to hear about you having asthma. sad that you can't enjoy those delicious dairy products.

• Canada
10 Jun 07
Watching helplessly while people I loved suffer with health challenges led me to promise myself that I would never give up the search for optimum health and the reasons why some people fall victim to disease. Over the years I learned that there is such a thing as healthy coffee and you can drink as much of it as you like with no ill effects. I learned that there are nutrients that can help your body heal itself. I also learned that there are drowning people that will not reach out to take the lifeline. The last promise I made to myself is to learn how to let go.

• India
10 Jun 07
i would never be so addicted 1st of all to coffee

• Philippines
9 Jun 07
my first and last promise was so juvenile, i promised myself not to cheat on my girlfriends anymore and if i have a girlfriend i would treat her very kindly.mary ann,please take care of yourself ,i can sense that you are a very wonderful person and the world needs people like you.

• Singapore
3 Jun 07
Maryanne, you better be careful not to jump out of the wagon again. Hmm, first and last promises? Well, I've had one with my boyfriend. Like, whenever my monthly period is coming and my boyfriend and I are having an argument, I always say, this will be our LAST fight, I'm definitely breaking up with him. LOL, well 2 1/2 years and a thousand of fights later, I'm still saying that.