What to get my hubby for Father's day.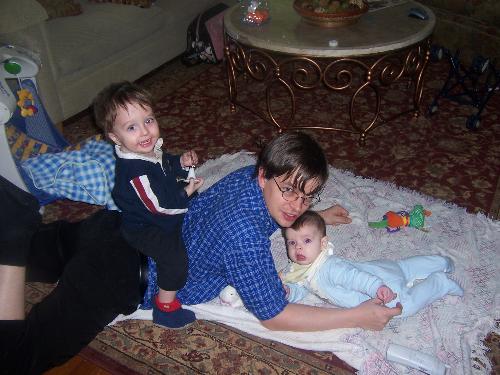 United States
June 1, 2007 3:28pm CST
What do you get a Techno geek for Father's day? He has both Mac and PC, A Palm Pilot, Ipod, ets. Any of you guys knowwhat I can get him that is not so expensive?? What about you moms? What can my kids make for there dad? They are 6months, two and a half, and 11years old.
3 responses

• India
8 Jun 07
Gifts just express the love & feelings for the person.Giving expensive gifts is no criteria for showing your love. My kids are so small they can't go to the market to buy gifts.What i think is the best, that i'll buy a sweet card, put the thumb impression of my kids, put the cuttings of their pictures in which they are with father. Sometimes small things express much more than words.

• United States
8 Jun 07
We are making a memory box for my DH. We took a shoe box and paper mached it. I am going to spray paint it and put the kids hand prints on it. I have a little instant camera and took their pictures to glue on. I am going to have my son write a little note for my DH and I am working on a CD slideshow for him too with little video clips of the kids. My daughter isn't old enough to say much but I got her saying Hi and Dada a few times. My son is 3 so I have him saying, My Daddy is the best, I love you Daddy, etc. We have always been into more personal gifts. Though we do splurge sometimes for a surprise but not neccesarily on a certain day.

• United States
7 Jun 07
Well if you can afford it and if he likes music you can get him an iPod or one of those Serius radios for his car. For the kids, breakfast in bed is always nice.