How to get a star on your head in mylot?

China
June 1, 2007 10:26pm CST
I know that the star and the number in it means your rating, but how to get it? By posting and responces, the number under my name increases, is there something to do with that? I have seen many that their star number is more than ten but the number under name is not so large, while someone whose number under name is very big but got no star on head, why? With the star on head, you just seem to be a more advanced user at mylot and I think that's pretty cool. So how to get that star? Can someone help me?
3 responses

• United States
2 Jun 07
Yep, 100 is the magic number. The more quality and/or popular you are (of course I don't know the secret algorhythm of how it works) the higher the number inside the star. When I first got mine it was "4" I see you are at 73 already ...

• Philippines
2 Jun 07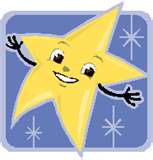 you have 27 posts more to go and on your 28th, you'd have your star too! you get the star on your 100th post. the number on the star is your rating, like blue for a 10 star. the star depends on the quality of your posting.

• Singapore
2 Jun 07
then how to rate the quality? is it the number in the star depends on how many respond and comment that you get?

• United States
2 Jun 07
I got mine yesterday when I reached 100 posts. thats when you'll get yours