Does this look like the face of a killer?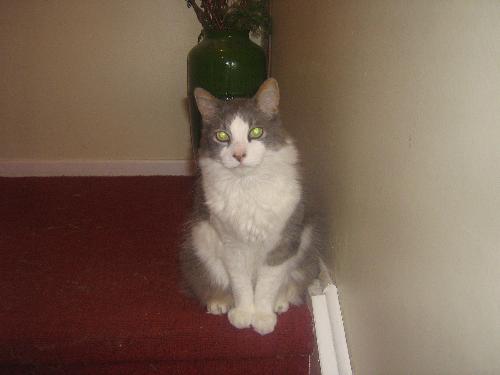 Canada
June 2, 2007 12:46pm CST
I am having a bit of difficulty with my cat. He constantly gets outside and will attack other cats and kill birds in the yard. I have tried everything to keep him in the house, but he still manages to get out. He waits until somebody opens the door and then he dashes out. Once he gets out I am never able to get him back in. Any suggestions on how to keep this "killer" in the house? cheers,
10 responses

• United States
2 Jun 07
Cute Cat, and no that does not look like the face of a killer! He looks really innocent. As for trying to keep him in the house, good luck! Cats are escape artists! If there is a way to get outside, he will find it. Do you have a screened porch that you could let him out in for a while each day? This might cut down on his desire to escape.

• Singapore
3 Jun 07
will i do think that you can't judge a book by its cover yea ... if it is a killer cat , i suggest that you let some vet to see what happend to this cat yea ... if it is so violent by nature why not let it rest in peace than go harm other cat


• Australia
3 Jun 07
Oh, sorry, I now realise you do have a photo of your cat. When we hir respond, from a notification, photos don't come up. I rated your photo & wrote a comment.

• Canada
3 Jun 07
A Cat is a Cat, and will always be a Cat! If you want a human cat, buy a Stuffed Cat! You better sit down and think about this! This animal is Just as God made him! Of course he's a Killer! Hes a carnivore! Who do you Think you Are? If his natural instincts bother you, get rid of Him! Hes a very intelligent Animal. He knows how to Run you, and he does it! Can you learn how to live with Him? Why not begin to Appreciate him for the Wonderful Creature He is? Don't try to change him! Accept Him!

•
3 Jun 07
LOL well - sad fact is that cats are members of the same family that includes lions and tigers, so their instinct is to be outside running free, and they also have a natural "killer" instinct" - in some it is more pronounced than others. I know some will disagree with me, but I tend to think it's cruel to keep your cats confined in a house - they need to breathe the fresh air, to climb trees, chase birds, play etc - it is what keeps them alive - to keep them indoors is just cruel - like locking a healthy child up and never letting him/her breathe fresh air or see the light of day. Just my opinion anyway. Maybe as your cat gets older he will naturally quieten down - though one of my cats Sasha (on the avatar) is old now and still likes to be out for hours and to hunt. I certainly think it's cruel to damage his "cathood" just for doing what comes naturally! He is a cute, innocent looking chap though - but sometimes the innocent looking ones are the worst! Perhaps he could join forces wth my Frodo (pictured) who is a another innocent looking "killer" cat!


• Philippines
3 Jun 07
Your ca is cute, seems he's inocent hehehe, maybe you should use a chain and a belt on his neck and tie him whenever you want. This only my best soluyion for him for he will not go out and kills someone. hehehehe

• Australia
3 Jun 07
I had to laugh at this. Having two cats myself, I well know the problem. Actually, I let my csts outside during the day. They love the garden & the treess. One in particular is an excellent hunter. To try & stop her hunting birds, I put a bell on her. That doesn';t work too well, & I have heard that two bells are better. To encourage her to return when I call, I make sure I time this around her meal times. Has your cat been desexed? This often reduces their tendancy to attack other cats. Failing t5hat, if your cat badly wants to go outside, & won't return when called, you could build her a cat run. These are very popular with people who want their cats to have limited access to the oputdfoors. Good Luck. Send us a photo of this naughty cat.

• Canada
3 Jun 07
I surely will do anything to keep him indoor. He might be a killer cat, but outside he will meet those really are not his match, like cars and animal abusers. I will probably get him a leash and collar and tie him somewhere in the house. I lost pets due to animal abuse before, since then I promised myself that my pets will live indoor only. They are safe with me.