About paypal account..!!

Bangladesh
4 responses

• United States
4 Jun 07
for a started your better off with the bear basics for your account. The thing to know is that you wont be able to withdrawl any money untill you add a bank account and your paypal account is verified. I have been using paypal for over 3yrs now and I have a premier business account. The thing is when ever someone makes a payment to me for any reason paypal takes out a small portion.

• India
6 Jun 07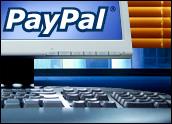 Dear nill_07 Please check the discussion started by me here -- http://www.mylot.com/w/discussions/993013.aspx I have explained many things here regarding paypal and other procedures .. if you go through each and every post .. you will become familiar with paypal. If u have queries you can contact me and I will be happy to assist you further.

• United States
8 Jun 07
It can be any type that you want. You are still going to get your payment from mylot either way. Only what you use your paypal account for determines which one you want to go with.