I am not religious but I have faith.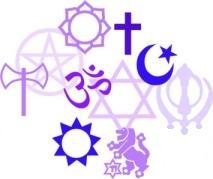 Hong Kong
June 4, 2007 9:56pm CST
Does anyone feel the same way? I honestly have to say that although I am a Catholic, I only occasionally go to church. But I pray, ask for guidance and thank Him everyday. I know that being a Catholic, it is a responsibilty to go to Church on Sundays and on other special days. Let me know what you think about this topic.
4 responses

• Philippines
5 Jun 07
I'm actually like you. I'm not into going to church. But my faith is strong, I always pray and I'm not letting the day to pass without praying.


• Hong Kong
5 Jun 07
thank you very much for your reply. I appreciate it very much. No, no one has said or done something for me to think of this idea. It was just a fleeting thought, and i wanted to share it.. =D I do not doubt my faith. My point in this post was how my faith was totally different/separated from being religious. Cheers! =D

• United States
5 Jun 07
I was brought up to believe that God can be found anywhere, not just church. I think if you went to church every Sunday but never prayed at all you wouldn't be religious. But it sounds like you have a good relationship with God, you pray and ask for guidance, and most important you thank him everyday. That is so important! I would consider you more religious than a lot of people who only thinks of God one day a week for an hour or two.

• United States
5 Jun 07
There is often a debate about works vs. faith. Even in the Bible there are scriptures about people who argued that works was more important than faith and vice versa. A very wise man (C.L. Lewis) said that faith and works were like scissors--both sides were equally important and without one side the other was useless. I don't say a person can't have faith without attending church, but Christ founded the church for a reason. I think a faith without a community for support and education could be vulnerable. Humans are social animals, and Christianity is based on our loving and serving each other. How can you do that without being in a community, i.e., a church? Personally I can't. I need the interaction of other believers to keep my faith grounded and alive.