I need a Home!!!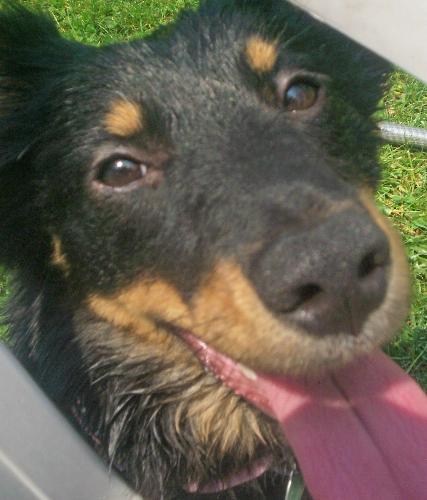 United States
June 7, 2007 10:28pm CST
Hi my name is Phoebe and I need a home. My original owners were mean to me so now im living with my sister and her humans. I am a 7 month old Australian Shepard mix and very cute!! I am house trained and crate trained, I have all my shots as well. Im looking for a nice family with kids or animals to play with. If your interested please contact my owner: copperkitten. Thanx all and hope to have a new home soon!!!! Bark Bark!!:) If anyone is interested please let me know. Thanx!!!
6 responses

• Singapore
9 Jun 07
lol .... this a funny discussion hopefully he had found a home yea , wonder if the shipping for you is it free ??? lol

• United States
9 Jun 07
LOL no shipping shes pick up only.

• United States
10 Jun 07
NO home Yet!!! Shes still here!! Ask everyone you know if they want her!! Thanx!!!!

• Canada
17 Jun 07
If you haven't found a home for her yet, try listing her on www.petfinder.org

• United States
22 Jun 07
Thanx for the website!! I did fid a home for her finaly. A nice older couple took her. They have alot of land and a fenced in yard. She will have a fat cat and a blind dog for playmates. Im so happy she found a home!!!!

• United States
9 Jun 07
Copper, if you didn't live so far from me I would have loved to Phoebe a good home. We love all dogs but my fiancee is in love with all Shepard's. We currently have two German Shepard's mixed. I wish there was a way to get her here. Make sure to let us know if you were able to find someone.

• United States
9 Jun 07
Aww I wish you could take her too!!! I will let you know when I find her a home. Still working on it.

• United States
23 Jun 07
I am so happy that Pheobe has found a happy furever home! I am happy that she has good company, too. If you, or your friends ever need a place to post dogs who need a home, try www.dogster.com! Dogs are posted and adopted there all of the time! It is a free site, and people who are members truly love dogs and animals!

• United States
8 Jun 07
awww, i so sorry Phoebe!! I already have 3 dogs and 2 cats and they're not even all that nice to each other, let alone a sweet wee one like yourself! I wish I could pick you up and bring you home I just can't. I'm sorry!!!

• United States
8 Jun 07
Aww..Shes just soo cute..I wish i had the time and energy to keep up with her with my back and all,And i can tell everyone shes a beautiful pup and shes very kid friendly and cat too! lol..I know you wil find a wonderful home Miss Phoebe..Lots of luck on your new home!