Computer Addicts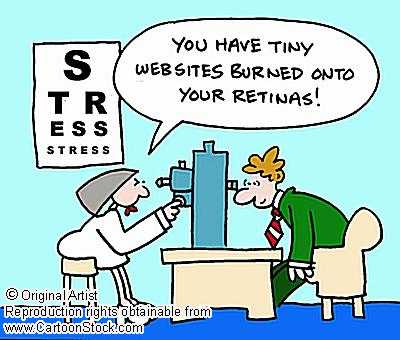 India
June 8, 2007 8:07am CST
Is being in front of a computer for too long times(say more than 3 hours) unhealthy or not?...How does it affect you?..how long do u stay in front of your Pc at a stretch?...For me personally sitting more than three hours or so at a stretch gives me severe throbbing headache..what about you ..tell about your experiences and knowledge
4 responses

• United States
14 Jun 07
I have to admit I'm a real computer addict now....I only got my own computer a few months ago..and now it seems I practically live in front of it...I do a lot of work on it, plus writing, plus being here of course...it's like once I in front, I have to drag myself away from it...but hey, I'm not complaining...I waited a long time to get a computer!!

• United States
8 Jun 07
I'm a programmer so it's my job to pretty much sit in front a computer all day. It used to be that I'd get really horrible headaches after just a couple of hours (just like you)but I do things to avoid the headaches now. I take breaks around every hour or so. It keeps my mind fresh. I'm also really worried about developing a clot, like the person before me mentioned. That's why I walk a lot and do yoga and pilates. It also helps to drink a lot of liquids just so you're forced to get up to do your business. heh

• United States
8 Jun 07
As my employment requires me to be in front of a computer, you get used to it. I sometimes have entire days in front of a machine, but yes I do get up and stretch, I use a low powered LCD monitor, and try to go outside and get a lil sun during the lunch break.

• Canada
8 Jun 07
For me, it is one hour and that's when I am writing my novel. Otherwise I try to get up and stretch every twenty minutes or so and then I do other stuff. Besides I have a weight problem so I cannot sit for three hours without spreading and I don't eat at the computer. You could check the refresh rate of your monitor. It might also be the problem. Or get an Lcd screen if you can afford it, if you don't have one already, and look elsewhere in the room for every ten minutes or so. Just don't stare at the computer all the time.

• India
8 Jun 07
Well since you have got a weight problem,i will doubly advise you to get off that chair,and go for a walk in the nearby park to get the inspiration for your novel...Just joking,but seriously straining for more than three hours in front of the computer will seriously harm your health ,i believe