tom and jerry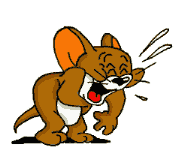 India
June 8, 2007 11:11am CST
why do you like tom and jerry??tell me friends whats the reason even kids and adults like to watch cartoon tom and jerry, we njoy whole family sitting together, we watch i for hours and hours...
3 responses

• India
10 Jun 07
i love watching tom and jerry. i hv been watching it since i was a small kid and i love it cz it is so funny in the most simplest wy. u jus cnt control ur laughter wen u see tom gtting hit by ball or wall and jerry is the most adorable mouse i hv seen!!!

• China
8 Jun 07
I am 23 years old now,but I still like watching Tom and Jerry,it is quite funny.I can not stop laughing when I watch it.I really do not know the reason why I like it,maybe I am childish.what about you?do you like it?