If You Could Be 'Anything' In The World, What Would It Be And Why?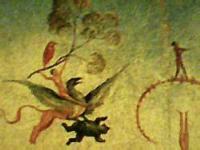 United States
October 23, 2006 5:47pm CST
An animal?, A plant?, An inanimate object? -like a statue, a candle, an airplane, a picture on the wall, etc....Or would you be somebody else -alive today, or not...Maybe a superhero? A celebrity? An artist? A scientist?...Or would you just be you -with some/any improvements, changes...ANYTHING..and WHY?
10 responses


• United States
26 Oct 06
If I could be anything in the world, i think it would be fun to be 'Mona Lisa' 4 awhile and instead of 'my eyes following you' no matter what angle you looked at me from, i would close my eyes and wait for some unsuspecting admirers, then open them and scream "BOO! And guess what? It is a self portrait!"...then I would love to be a fly on the wall for endless reasons, of course..Lastly and infinately, i would be me -but be able to go back in time and right all my wrongs -The Big Ones- then jump ahead to my future to see what 'Big Wrongs' i have yet to make, and travel back in time to where i am now and plan ahead accordingly...Not fair -i know- But if i had a choice of anything, that last choice would be my final 'answer'.. :)

• United States
26 Oct 06
Wow... Interesting question. I think for me, if I could have been something other than who I am, I would have loved to been either a Cat, as they are affectionate, and always being shown attention, or a Car so I could have had the chance to drive all over the world, and not complain about being tired, etc. as then someone else could financially have all the Responsibilities.


• South Africa
26 Oct 06
a dog like mine just be lazy all day doing nothing hehe

• United States
3 Nov 06
A superhero. I would love to save lives and have a cool power, like super-speed or super-senses.

• United States
3 Nov 06
I know who I would want to be.,.I would want to be a guradian angel, i would have the power to go anywhere i wanted in a blink of an eye,,to protect my son, family , and friends..to protect them from harm,or comfort them with my wings and make everything ok, but at the same time let them make theer own desisions and mistakes..and learn there own life lessons..but help when i am absolutey needed..I hope this didnt sound corny lol..but thats what i would be.



• United States
26 Oct 06
A great musician, capable of playing any instrument I desired proficiently.