20 Years Since "Black Friday"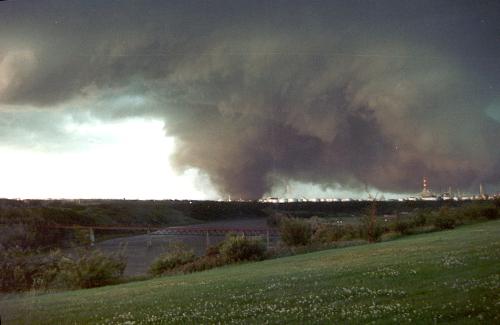 Canada
June 8, 2007 7:29pm CST
On July 31st of this year, it will have been 20 years since one of the worst Canadian tornados hit the city we live in. Edmonton locals referred to this day as "Black Friday". http://en.wikipedia.org/wiki/Edmonton_Tornado http://www.iassistdata.org/tornado/ I've only lived here for 3 years, and would have been a wee thing the day it hit, but I wonder -- was anyone here on MyLot around that day? What was it like? Do you know anyone who was affected by it? What do you think the chances of another big one hitting again are like? The other day when the weather suddenly kicked up, a lot of people started talking about Black Friday because the circumstances were all the same on that day as they were that day almost 2 decades ago -- hot muggy weather in the morning, sudden cold front, fast moving cloud formations, etc. I'm sort of curious to see if the city will put on a memorial service for it marking 2 decades.
No responses