Sunshinelady Changed Her Avatar In Honor Of Upcoming Anniversary.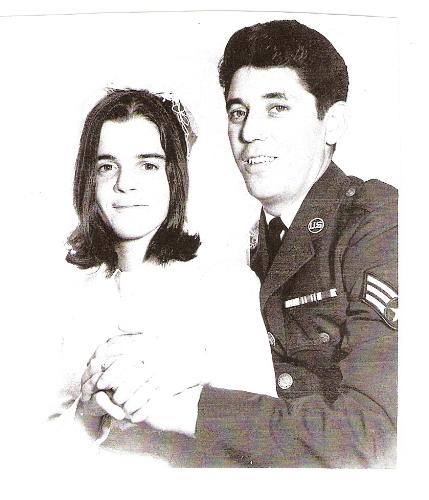 United States
June 8, 2007 10:43pm CST
I was going to wait until July to change it but I am so excited about my anniversary coming up I went ahead and put my wedding picture up. My anniversary is in August and I am very glad the day my husband and my paths crossed. We met and married in Adana, Turkey. He was in the Air Force and so was I. He called me at the barracks one night and asked me if I wanted to come to the club for a drink and I said yes. I had heard about him while I was stationed in Florida. I just had to see what he was like. After the first meeting we started to go out on a regular basis and soon were just going out with each other. The day that he asked me to marry him was the happiest day in my life. We got married on August 20, 1972. On that date of this year it will be 35 years and I have never regreted marring him. He has stood by me over the years through all the different surgerys I have had and one miscarriage. He is my rock and I love him.
5 responses

•
10 Jun 07
Thank you for that lovely story! I am coming up on 31 years June 27. That is a very nice wedding picture. I love to hear how couples met each other.

• United States
10 Jun 07
Your welcome gberlin. I think as we travel the road of life we only meet once in a lifetime a person who is truly connected to you. I am not talking about the chemistry part of things but the kind of a person who cares enough to stand by you when things get tough. So your anniversary is coming up. There are a lot of things that have a marriage stand up through the test of time. One of them is the commitment to work at the relationship. One of my friends had made the comment to me but you love one another. As I told her love is not the fix all but the glue that holds the relationship together. I wish you a very happy anniversary on the 27 June and hope you do something special to mark the day that the commitment was made to love each other throughout life.

• United States
10 Jun 07
Also thank you about the wedding picture. Everytime I look at it I smile and think about what a handsome man I have married. And how I am glad our paths crossed that time years ago.

• United Kingdom
10 Jun 07
Sunshine I am so happy that you found him and that your Marriage is that strong there is not many Marriages around like that anymore As you know I am divorced I tried to get it to work for 21 years but then could take no more It was a case as soon as the ring was on my Finger he totally changed So Happy Anniversary for August to you both Love and Hug

• United States
10 Jun 07
gabs8513 You worked your hardest to make the marriage work for 21 years. A person does the best they can and it takes two people to work at a marriage to make it work. It sounds like he didn't want it to work. If he did than he could have helped to make the marriage better. You went into the marriage thinking he was one way and when he put the ring on your finger he just let all pretense fall off of him. More or less I got her now and there is nothing she can do about it. It is sad that he could not see what a precious person he had in his hands and so let you slip away by not treasuring you as his help mate and friend. I am blessed that I found my friend and soul mate and I thank God everyday. Thank you for your Happy Anniversary wish. It is appreciated dear friend. Love and Hugs to you.

• United States
13 Jun 07
Well Happy (Early) Anniversary. That's a nice pic too by the way! I love seeing people married for that long of a time. I wish I could of stayed married but mine only lasted 2 years. Who knows maybe I will get it right and marry my soul mate one of these days.

• United States
13 Jun 07
Never lose hope. There is someone out there for you. If it is not meant to be it won't. It takes two to work on a marriage and if one is not willing than there is nothing the other can do. Thank you for the anniversary wish. I think my honey is handsome both then and now.

• United States
10 Jun 07
Congratulations on your anniversary. Each and every anniversary deserves to be celebrated. It is refreshing to see a marriage survive the test of time. Many marriages end up in divorce before they even celebrate the first anniversary. Long-term relationships are often difficult to maintain, many do not have the strenght nor energy to work at it. It is easier to give up. Huggers to you and your spouse.

• United States
11 Jun 07
Thanks and I will give my hubby a extra hug. We have had rocks in the road of our years of marriage and we both have worked at it to move them out of the way. We love each other and felt it was worth it to make it past the rough spots in our marriage. Neither one of us believe in throwing in the towel. The problems have strengthened our marriage and made it better.

• United States
10 Jun 07
What really nice photos. You make a very attractive couple. Advance congratulations on your 35TH Anniversary.

• United States
10 Jun 07
Thanks for the congragulations. I couldn't wait to put the photo up. I am excited about our anniversary coming up. I have been married to a very special man and love him very much.