I just sign up a new money account from mylot....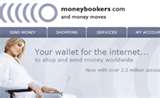 Philippines
June 9, 2007 12:32am CST
Recently,I recieve an E-mail allert saying that I must sign in a new money account from moneybookers.com. And saying that the e-gold account has no longer availlable due to some case. I saw that Im being pay out by mylot coz I saw my earnings has been deducted but I don't know for sure If they are the one transact my payment coz when I visited the e-gold site I can't no longer access my account. Since I'm newbie here and first time to recieve my payout. I don't know where I will collect my earnings. Can you help me please, did I must send e-mail through mylot about this matter? How about you guys did you ever recieve an allert too about this moneybookers.com?
3 responses

• Philippines
9 Jun 07
im still newbie here in mylot i dontknow exactly whats goin on but ive also got a message this morning about the moneybookres.com.your right you better inform them what was happen to your account.

• Philippines
9 Jun 07
Yeah because me is also confused and I have many questions in my mind. Hope they can easily answered us. Thanks

• United States
9 Jun 07
i got the alert and i did sign up for moneybookers too. WHat i dont know is they deduct a fee when you sign up? how much did they take from you?

• Philippines
9 Jun 07
I just sign up for the next payout of mylot they say they have a mobile transaction costing 0.67c and 0.17 sms transaction. It's not really clear to me so much but if yu have time just visit the site.

• Philippines
9 Jun 07
All of us received this new mail alert from MyLot. Surely it would be a good news for most of us here. I've been waiting this news for so long and I feel great for the alert I've received this afternoon. I guess you have the same problem with "mskzalameda", she's also one of my friend here. Right now she's trying to change her ISP. You're earnings was deducted because MyLot pays you thru your e-gold. Maybe you did not erase your e-gold account number last May 2007 to hold your earnings from MyLot, right? This is the only possible reason why your earnings went down and you can only get it with e-gold alone. Try to use another computer if it's still possible to open your account. Right now you have to create a moneybookers account for your payment preference. Did you register for a new account?

• Philippines
9 Jun 07
Yes I already did actually I'm just working with it coz I got confused the bank swift code there asking for and as of now I will just ask my bank about it. Maybe I will try your suggestion I will used another computer to acces my e-gold account. Thanks