Du support the fact that online games are ADDICTIVE??!?!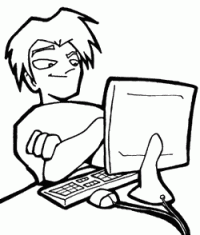 India
June 10, 2007 9:57am CST
Well,there's been a lot of controversy on this topic but i'd still like to know...Is online gaming really that addictive?!?! The primary reason of my asking this question is basically that i dont play online games,and when i hear people talk about it sooo much,i jus wonder how they stick to their computers all day and play those games?!I figured its damaging to ur health,same as for cigerettes.....
1 response

•
10 Jun 07
yes online gaming is very addictive. i play an online roleplayer game called runescape, it is extremely addictive, and i have been playing it for almost 3 years now (and i am almost 27). the thing about online gaming is it is the same as any other thing that you enjoy doing, you must do it in moderation. i play on runescape every day more or less, but i limit myself to how long i play for. like wise for anyone who plays things like online bingo or lotteries, they can be extremely addictive, you just have to watch how often you play and how long you are playing for at a time. you do still need to live your life too...