mini blinds, vertical blinds, HEADACHE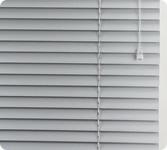 United States
June 10, 2007 1:23pm CST
being that i live in a rented apartment, i have no choice but to put up with the dumb mini blinds in each window, AND the yuck vertical blinds in the doorway leading to the porch. okay so i've managed an apartment building before, and we had curtains, and THEY ARE expensive to keep up. and the smokers would turn them yellow, and they stained bad if the rain hit them. most places have gone to blinds cuz they are cheaper. if you have to replace them after a tenant leaves, no big deal. however, THEY ARE A PAIN. do any of you have ideas on how to clean them, (they get so dusty and nasty), and we haven't even lived here for a year yet, and pieces and parts are broken already...(i'm sure they found THE cheapest blinds to put in here, the wind broke the last piece that was broke). UGH...the vertical ones always get stuck, and have to line up just right in order to even open or close correctly.... WHO here LIKES these things? or are you a curtain kind of person?i did put up curtains in our bedroom (over the blinds, we're not allowed to take them down), as i just couldn't look at the blinds anymore, just ugly to me, dreary, drab, and boring.
3 responses

• United Kingdom
11 Jun 07
I am more the Curtain type as for cleaning them it is not easy unless you can get one of those Blind cleaners that we can get here but I found that they useless to so the only way round it you have now is to wipe them with a damp Cloth one ata time and that is time consuming

• United States
13 Oct 07
ooh i would rather have curtains! i have one set of vertical, and 3 windows with the horizontals. and you know what? we've been here a year...AND I HAVEN'T CLEANED ANY OF THEM...i hate them, hate them, hate them, so i avoid them, HAHAHA!!! BAD!!

• United States
11 Jun 07
To clean blinds, I take them down and hose them off with the shower head. If they are really nasty, I may use some bleach water or other cleaning product. I hate curtains actually. I think they are a pain in the butt. LOL I would rather have blinds. Yes the ones they use in apartments are cheap and usually break easily. I like the sturdier ones for a home. Right now I am in an apartment, so I have the yucky, white, cheap ones. I prefer the sturdier, even wood ones.

• United States
11 Jun 07
ooh, i DO like the wood ones, they are so elegant looking almost. they just add something to the room!! i do like the metal or aluminum ones better than these crap plastic ones. the plastic ones are hard to clean. i dunno. curtains ARE a pain, as they are hard to clean as well, but i like the way they look better.

• United States
11 Oct 09
When I was a young girl, my father would take the blinds out of the brackets on the window and but them in a nice soapy bath in the bath tub. If they are really dirty you can use a sponge or soft bristle brush. After you let the dirty soapy water out use plain water to rinse them. Let them stay in the tube for a few minutes, use the cord that you use to open the blinds to pull them up so that they will be easy to carry. Or, if blind is dripping water, you can just carry them and put them back in the brackets. Now let them down and wipe them with a towel or paper towels. Not hard at all. I did them when I was 10 years of age.