DreamS

June 11, 2007 7:52am CST
What is your dream in life? Even if it is so unrealistic please tell !!!
5 responses

• China
11 Jun 07
My dream is to be a interpreter after my graduation from university,and I'm working hard on it to make it true!



• Singapore
11 Jun 07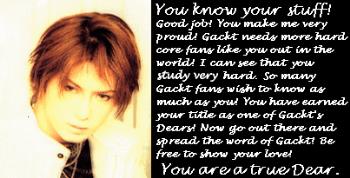 Well i had a dream being a visual kei player like malice mizer Gackt .... but it looks impossible for me now and my little tiny country yea

• Canada
25 Jun 07
My dream? I have a few of those. Career-wise, my dream is go get into VanArts and break into the video game development industry as a freelance concept artist. My short-term dream is to get decent stay-at-home income so I don't have to go to some miserable fast food or retail job, hence the fact that I joined MyLot. A data entry type office job would do, as well, but I don't want to be one of the many people who lives in a cubicle. But in life in general...I want to be happy. Travel. Perhaps find love. I want to make a difference, a positive impact on the world or at least on a life or five. I want to raise a child, and see them become successful in life. I want to learn about Celtic mythology. I want to go on a tour of the places that Arthurian legend might be referring to. I want to write a book, I want my art to be recognized. I want a lot of things, and having just graduated from high school, I have my whole life ahead of me to obtain them.