A VW That Thinks It's A Rolls Royce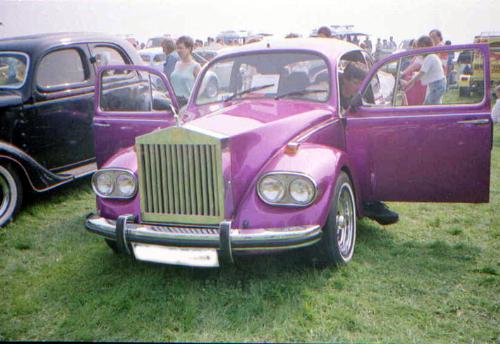 June 12, 2007 11:15am CST
Here's a photo of a VW Beetle whose own has modified it to look like a Rolls Royce. What do you think?:-) I took the picture back in 1988 on a visit to a park called Cricket St. Thomas nr. Chard in Somerset, West of England. They happened to be having a Custom Car event on the day we visited. Cricket St. Thomas used to be like a small safari park with a variety of animals in the grounds. The house and the estate was used in the filming of a British sitcom called, To The Manor Born.
3 responses


• United States
12 Jun 07
It's really interesting how people come up with ideas to modify cars. I live in nascar country and we see this sort of thing all the time. It amazes me the time, effort and money that is involved with custom cars. I haven't seen the sitcom called, To The Manor Born, but l will keep my eye out for it on the station that has a lot of BBC shows that l love to watch.

•
13 Jun 07
Yeh, I like to look at modified cars that show so much imagination. To the Manor Born is a sitcom about the Lady of the House who has gone broke being bought out by a wealthy business man. The lady, played by Penelope Keith want to keep the English traditions of the manor house going but the new owner has other ideas. She moves out into the much smaller gate house with her butler and vintage Rolls Royce but it always nosing about the manor house making sure he does not spoil its heritage.. It's light, but quite funny humor of its day.:-)

• Malta
28 Feb 10
Thanks for sharing. I have never seen anything like this. It looks cool! And really interesting to car enthusiasts.

•
28 Feb 10
Thanks for your response. There are often shows where car enthusiasts show off their creations. The VW was one that particulary impressed me, because I wouldn't have thought it possible to put on a Roll Royce grill like that. There haven't been too many shows in recent years, but I am hoping that there will be a good one this summer and maybe I'll get some more interesting pictures.

_Derek