This is for Kaleb!!!

United States
June 12, 2007 5:28pm CST
STORY ON BABY KALEB... Current mood: crushed Category: Life As told to me by Kristy. Forgive me if any details are incorrect. Like any responsible parents, Kristy and Josh Schwade wanted what was best for their only child, Kaleb. They did a background check on their day care worker, and even interviewed her in her home for two hours. Kristy was even willing to drive 20 miles out of her way to provide, what they thought to have been, "optimum" care in a good neighborhood. On May 9th, 2007 their worst nighmare was brought to fruition. After being in the care of this home day care worker only five times, Kaleb was picked up by his Grandmother and Aunt. They noticed that he was lethargic and experiencing obvious breathing abnormalities. The caregiver told them he was ill, but Kaleb had just visited the doctors the day before and was given a "clean bill of health". When Kristy arrived at her mother's home to pick Kaleb up, she described him as "having no life in his body". She tried repeatedly to wake him, but with no avail. She and her father got in the car and rushed to the hospital. While in the vehicle, Kristy lifted Kaleb's little eyelids. She noticed that his pupils were different sizes. Being the wife of an EMT, she knew immediately that this was the sign of a head injury- Kaleb needed IMMEDIATE care. They stopped at the nearest firestation. The ambulance took him to the nearest hospital, and he was classified as a "trauma alert". He was then life-flighted to Tampa General Hospital, and was admitted to the Pediatric Intensive Care Unit (PICU). He was diagnosed as having Shaken Baby Syndrome. They also discovered that he had been SMOTHERED! Kristy is not currently working, and she and Josh spend every possible moment by their young son's side. Medical bills, cost of gas, lawyer fees (I assume they will begin building), and general living expenses are mounting. When something happens to your child, your world STOPS. Suddenly it doesn't matter that your "roots" are growing out and you are getting split ends. It doesn't matter that your neighbor is parking his dumpy car in your parking spot. You no longer care that someone cut you off on the highway, or that someone jumps infront of you in line at the grocery store. Nothing else matters but your child. Kaleb is their world. The doctors. The PICU. It's all that matters now. This family is not asking for anything other than your prayers. However- PLEASE, in addition to PRAYING for this family, PLEASE consider supporting them financially. Whether you can give $1 or $10,000- no gift is too small or too large. You can ONLY be blessed by giving. This situation has become widespread because a friend of Kristy's decided to forward her bulletin asking people to pray for the family. PLEASE support them by spreading the word about this page. The more people who are aware, the more people who have the opportunity to bless this family. Thank you for viewing this page, and for supporting Kaleb and his family. Oh, and many of you have been concerned whether or not the sitter has been charged. YES charges have been pressed, but she is currently out of jail on a $5,000 bond. Hey everyone. Everyone knows that I sell Avon. I am donating 100% of my earnings to Kaleb. So everyone got o my website to buy something for Kaleb. This is not for me to get some sales. This is for Kaleb everyone!!!!!!! http://www.youravon.com/amberjennings
1 response

• United States
15 Jun 07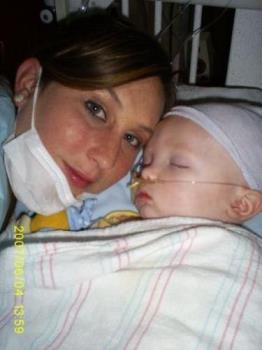 I know the story very well... Kaleb is on his way to healing. I got faith for the little man! I get updates on Kaleb everyday from Kristy on her myspace. It's amazing how he is coming around. I will keep praying for Kaleb and passing the word on for him and his family! Although, I havn't heard anything from Kristy about the Avon stuff... Maybe she just hasn't gotten around to it? I know there is a support page for Kaleb on myspace.com and I have donated to that and would love to donate more and plan on donating more each payday or every other chance I get..

• United States
17 Jun 07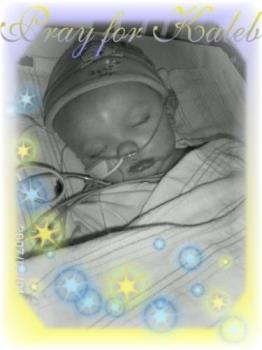 I am donating stuff also and I have given 2 get well cards and my daugter drew a picture for Kaleb!!