One or two word responses.

Canada
October 23, 2006 10:42pm CST
I can't be the only one who is annoyed by the "yes/no" or "I have no idea" reponses some people post to my (or others') discussions. I know they're just trying to up their earning or ratings or whatever, but at least put a little thought into it. Don't you agree? (And just so you know, anyone who replies this way to this discussion gets a - ...and I encourage everyone else with something real to say to rate the same.)
3 responses

• Canada
3 Nov 06
Hi. When I first read this post, I thought I would be humorous by responding with 'Yes!', but then I didn't want you to give me a -. I usually never answer with somethin lame like that. I feel why respond with 'nothing', what would the point be?

• Canada
5 Nov 06
Actually, that would be pretty funny! (And unlike some, the irony wouldn't have been lost on me.)

• Netherlands
5 Nov 06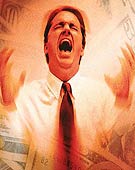 The best ones are the "Can't say." or the "Post too long, I will read later." heh I am glad that Mylot is making an effort to clean this sort of stuff up. As their new alert reads that they have been taking money away from these sorts and redistributing it to people who follow the guidelines. This makes me happy as I always try to give a real responce and not just a one-liner.