Why I First Started Watching; How About You?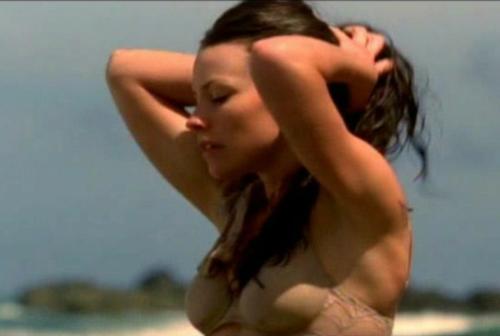 United States
June 13, 2007 12:19am CST
I started watching Lost mainly because of that short part in the teaser before the first season started of Evangeline Lily on the beach in her underwear. If somehow you have forgotten that scene, impossible I think, there is a video link to it below. And streak_tlu, there is another photo with this. http://www.shareaflick.net/19773-Evangeline-Lily-Lost-Season-1-Beach-Scene.html
9 responses

• Philippines
14 Jun 07
I started watching lost because I've always imagined myself getting lost somewhere on an island...imagine spending your last days on earth with josh hollaway (a.k.a. sawyer) or evangeline lily.. *sigh*..also, What made it interesting is that as the story unfolds, there's some kind of connection between them and their past lives..I've always belived in Karma...and their characters are very interesting...

• United States
14 Jun 07
I agree and I'm sure more connections will come in future episodes. I'd prefer spending my last days with Evangeline however. I think it is funny that in real life she is a terrible driver, she even broke the set on Ellen when they had her trying to drive a "golf cart" type car.

• United States
13 Jun 07
Well, I can't agree with you on seeing Evangeline in her undies as the clincher that got me hooked on LOST. Now maybe if you got some of the guys in their undies! I am intrigued by the ever twisting story line. I love a show that gives you a tid bit of information and leads you into an entirely different direction with each episode. You are always wondering what is next. I can't wait for the new season to begin.

• United States
14 Jun 07
Well Evangeline in her undies was what got my attention, but I keep watching for very much the same reasons you do. There are other tid bits that I'm sure I miss. Like even after seeing the episode with Michael and Sawyer on the broken raft a couple of times, I still haven't seen the Dharma Iniative symbol that is supposed to be on the shark much like a birth mark or genetic marker.


• United States
15 Jun 07
I started watching because I got an IPOD two years ago and it came with a $25 card to spend at the IPOD store. I saw there where downloads for TV shows and I remember a bunch of people talking about Lost so I downloaded the first episode, and then the second and the third. Before I knew it I had rented the rest of season 1 on DVD and had to Download season two on my IPOD because it wasn't out yet and I didn't want to start watching in the end of season two. Now I can't stop watching. The guys don't hurt my love for the show. ;)


• United States
13 Jun 07
I actually first heard a radio preview for LOST and I thought that it sounded like my kind of show. Then I was really excited about it after seeing my first real tv preview. I loved the first season of LOST...but the farther into the show it got the more and more I got less interested. It just got WAY to complicated and weird to me, I stopped watching.

• United States
13 Jun 07
I still like it and of course I still like Evangeline. I guess I like complicated shows; I liked Alias and my sister and brother-in-law had trouble following the first few episodes and didn't watch it anymore. I don't always agree with or like some of the plot twists on Lost, but that is true for a lot of shows. I like science fiction anyway so Lost is close enough to that for me to continue to like it.