Do you think Coke's new calorie burning green tea drink will be a big hit?

United States
October 23, 2006 11:12pm CST
http://www.smh.com.au/news/business/coke-serves-green-tea-to-a-world-with-calories-to-burn/2006/10/12/1160246260394.html Coke is releasing a new drink called Enviga that naturally increases your metabolism to burn calories every time you drink it. Do you think that it will be a big hit or a fluke?
4 responses

• Portugal
27 Jan 07
I never see this new drink but if thats true this drink will have great sales

• United States
22 Feb 07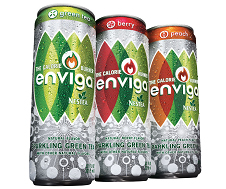 That's an interesting concept and they are marketing it as a negative calorie drink- slightly misleading unless you read the article but I am sure that it will be a huge hit. As much as I hate to say it, I am sure that in the immediate future I will be standing behind someone at McDonald's and they'll order one of these with their Super Sized Big Mac meal. Anything that claims to help people lose weight will sell; that's a proven fact. The only thing that doesn't sit well with me about this is that the tests and claims come from people who drank three of them.


• United States
13 Jan 07
I just tried this new drink called Enviga today as I got a sub from Subway. It caught my attention so I thought I would try it and it tastes pretty good and supposedly is a calorie burner. Whether it burns calories or not remains to be seen I guess. I tried the Berry flavor and liked it. It has the same level of caffeine as in a average cup of coffee. I am looking at the contents and information about it on the can. I will save the can if anybody wants to know the contents or material about it on the can.