Moving~~NEXT WEEK~~~Where do I start

United States
June 13, 2007 4:01pm CST
I am moving next week. I need to start packing, but don't know where to start. I began throwing out old newspaper and magazines today. As soon as my husband is home this afternoon he wants to start, but where......What do you usually start packing first? Bedroom? Kitchen? Living Room? Den? Loft? ????????
7 responses

• United States
14 Jun 07
LOL just going through this myself I'm the last person to comment - my move was too fast to do anything really organized so I threw the things I use daily into an 'over night bag' and it could be weeks before I find anything else - laptop and bag just went where ever I went for a week. Now I just wish I could find the rest of my cloths I'm getting tired of the same 3 tee shirts, one pair of shorts, one pair of pants, and few undies - wash and wear is getting old.

• United States
14 Jun 07
Hahahahaha. I can imagine. I guess I'm gonna keep tab of where they put my clothing. My kids are already histerical about their toys going into boxes and my husband is already freaking about where his computer stuff is going. I guess I'm in for a long week!!! Thanks!

• Japan
13 Jun 07
Well for sure you need to pack away stuff you don't really need right away. You don't want to end up opening a box again just to get something you need to use. I don't have a certain room to start with. I just pick a box and start packing regular shaped items into the boxes and filling up the empty spaces. I put in large items first. The main items in each box are from a certain room but the space fillers can be from anywhere. I think the less boxes you have makes things easier. I go through all the rooms and I make sure I have enough space fillers to put into the box along with kitchen stuffs (cause usually they are irregularly shaped). Each day I reduce the amount of things unpacked based on their importance (less important first). The bedroom is the first to be emptied and kitchen is always the last to be emptied on the last day. This is because you don't need to sleep but you need to drink or eat something.

• United States
13 Jun 07
Thanks. I will take all into consideration. Really appreciate your response. I am gonna start putting my collection stuff away first.

• India
15 Jun 07
hi read this one, might help (sorry don't have enough points to paste a link, you ll have to type it out on your browser) helium.com/tm/242054/first-taken-battle.moving

• India
15 Jun 07
sorry its helium.com/tm/242054/first-taken-battle-moving

• United States
18 Jun 07
Thanks. The article has very good information! The cheklist is good way to organize the move. Thanks alot!

• United States
13 Jun 07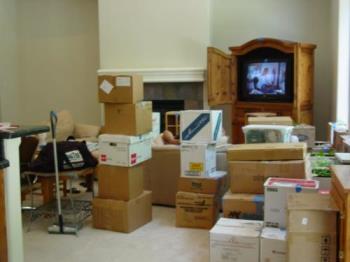 Hi Onfire I wish you luck in your new home. May I ask where you are moving to?. Are you moving to a new town? Well I have done a ton of moving. I always stared with the things I need the least for the time we were moving. Kitchen things that will be need for as many meals as you need. the same way with the clothes and last the essential beding. Put these things aside because you will need them after you get to the new house. From there I would pick a room and just go from there being sure to label the boxes as to the majarity of what you put in it.

• United States
14 Jun 07
I am actually moving from my middle-class side of town to a better location. Praise God!!! I started throwing away stuff yesterday. I also have lots of stuff for Goodwill. I will start packing glass stuff today. Then I guess I will do like you mentioned. Start in one room and take it from there. Thanks for responding.

• United States
14 Jun 07
You are welcome and congratulations on your new home. By the way I see by a later post that your kids are freeking out about their toys. Let them pack their stuff and they will feel better about every thing. As for your husband tiell him He gets to take care of his computer too. That should calm him down too.

• United States
13 Jun 07
I say start with the kitchen, and I speak from experience. LOL By the time you are done with a couple rooms, you'll want to throw it all in a box and not care about the consequences. Also, people tend to take more care with the first things they pack, and dishes would be up there in the fragile category. Good luck on the moving! : )

• United States
14 Jun 07
Good Idea. My glass stuff will be the first to be packed away, I can imagine that after the first day, we will be frustrated and start throwing things around. Thanks for the ideas.

• United States
2 Aug 07
Well... I don't have any suggestions for moving. So why am I answering, you wonder? Just to post my opinion on moving. I HATE IT!!! I even bought a manufactured home so that if I ever need to move, I can just hook the house up to a truck and move it. I don't really know why I loath moving so much. I feel it's because I was in the Military for 8 years. I resist change now, dispise moving, and I'm not good on long trips. I'm such a bore, huh?? (lol) But if I had to move... I'd hire someone to come in and pack everything up for me and haul it away to the new place.

• United States
3 Jul 07
I'm probably late in responding to this thread, but I would say pack up the things you aren't using, or can live without first. Also, eliminate (throw away or good will) the things that you don't want to keep. I would also start collecting boxes to pack up your things. I hope your move went smooth!