This is the first weekend! SATURDAY, JUNE 16, 2007-BOYCOTT DRIVING!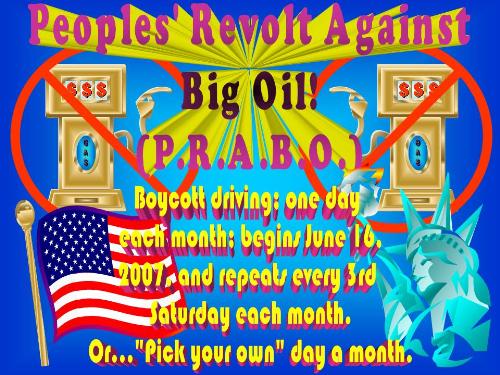 United States
June 14, 2007 4:36am CST
This is it! This Saturday (June 16, 2007) marks the beginning of the Peoples' Revolt Against Big Oil (PRABO)! It's time WE call the shots for a change! It's time WE finally say "enough is enough"! It's time WE show them we're not going to just "suck it up" anymore! Yes, we'll have to make some "small sacrifices" now, but if we don't do that now, we may be forced to make much bigger sacrifices later, when gas prices climb to the $5, $6, $7 per gallon range. If the prices are truly being affected so pointedly and so significantly by the supply and demand system, then reducing our consumption (reducing "demand") SHOULD reduce prices. Let's (NOT) roll! IT'S ONLY ONE DAY EACH MONTH! Are we up for that kind of sacrifice? Or, should we just forget about it? What do you say?
2 responses

• Sheboygan, Wisconsin
14 Jun 07
One day, or even one day each month is meaningless. The oil companies don't make money from you and I buying gas, they make money by selling crude to distributors. By the time it makes it to the pump, the only people making any money at all are the gasoline distributors and the guys who drive the tanker trucks, the gas station and the state government. If the oil company doesn't sell their crude to the U.S., they'll sell it somewhere else. Even if you got half the drivers in the country to not drive for a full year, the oil companies wouldn't lose a penny.

• United States
15 Jun 07
I do appreciate your response. I don't think I agree that oil companies don't make money from you and I buying gas. I know they sell crude to distributors, etc., but we pay over 50% for the cost of crude in each gallon of refined gasoline we purchase, so it's the oil companies (crude producers) who are getting the biggest piece of the pie (ref. 2005 data at: http://www.eia.doe.gov/bookshelf/brochures/gasolinepricesprimer/eia1_2005primerM.html) I agree with you that the demand appears to be high enough globally that would allow oil companies to continue selling to other markets, but I still believe if enough people really did stop driving, billions of dollars would stop flowing into Big Oil coffers (of course, such a move would also impact all the OTHERS who benefit from the sale of gasoline; States, refineries, distributors, etc.). I'm also a realist...and I know a successful movement such as this would not likely begin here at myLot; no offense to myLot, but even at 96K members (worldwide, of course) I doubt it would get off the ground from here. It's fun trying, though! Thanks again for your post & comments. Good luck!

• Sheboygan, Wisconsin
15 Jun 07
Hey, if we can't speak out and tilt at windmills what fun is life! ;~D


• United States
17 Jun 07
You'll be happy to know I did not go anywhere yesterday. Today I am going to see my dad. But now that it's summer time and the kids only have one more day of school, I won't be driving much at all. So I figure a tank of gas should last me well over a month. That should save a barrel or so of oil

• United States
18 Jun 07
Hooray, mfpsassy! Good for you that you participated in the DRIVING BOYCOTT! That makes TWO of us that I'm aware of...lol! I know myLot is not the place to really launch something like this, and I guess I hardly expected very many folks to participate...but that's ok. It's fun trying anyway, y'know? Thanks for your participation and your posts...and good luck with the tank of gas lasting a month! That's quite good, I'd say! Keep it up!