My funny Abigail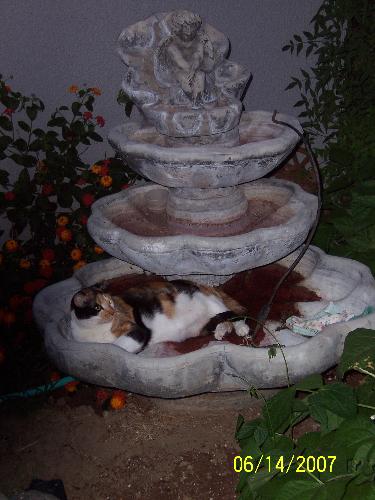 United States
June 15, 2007 1:11am CST
As a lot of you know Abigail is my adopted cat. I got her a few months ago. She is around 4 years of age. She does all kinds of silly things. She soaks her feet in my inground pool in the back yard, she attacks my feet at night when I am sleeping. Well tonight she did the silliest thing I have ever seen. I went out to take an evening swim and Abigail was laying in the fountain. Our fountain is broken and I do not use it. It has some moldy water in the bottom tier of the fountain. Abigail was laying in that moldy water tonight. I got pictures You cannot see the red moldy water I was also supprised she stayed until I could get the camera.
5 responses

• United States
15 Jun 07
You have a very entertaining cat! I hope you continue to share her adventures with us!

• United States
15 Jun 07
Abigail certainly has turned out to be our clown. My husband even likes all her anticks. A few nights ago Abigail did a body slam on our other cat and grabbed her around the neck and held her down. Sammie (my avatar) took it for so long then she gets mad and hisses and leaves. Abigail is not discouraged she continues to be silly.

• United States
15 Jun 07
Beautiful fountain by the way. The cat is adorable looking lying there so calmly. The cement must have been cool for her is why she laid there? Anyhow thanks for sharing. HAPPY POSTINGS FROM GRANDPA BOB !!~


• India
16 Jun 07
Strange behaviour for a cat, I always thought cats liked to stay clean and avoided dirty places, but then you can never predict with these cuties, they will do the most unpredictable things to surprise us.

• United States
16 Jun 07
Abigail certaintly is a supprise in the things she does. I am so glad I got her. She has a nasty scar that runs on the side of her lower jaw to her jawbone. It is nasty looking, she also has one ear which the end of it is clipped off and one eye does not open as much as the other one. I think she has had a hard time of it before coming home with me. Now she is a spoiled kitty just like her sister Sammie (my avitar) and her brother Petie (dog, papillion)


• United States
16 Jun 07
Yes you may copy her picture for Gissi's web page. I have other pictures I can send you if you want to choose a better one.

• United States
15 Jun 07
Oh--my goodness..Abagail's a beauty...shhhhh....don't let Rosie's Lily see a pic of Abagail, she might get jealous--LOL...Thing is...did you have to clean her up afterwards since she was lying in moldy water???

• United States
16 Jun 07
No I let her do that. Actually I think part of the red alge/mold is on my bed spread. That is why I buy bedspreads that I can wash and hang on the clothes line. LOL