love??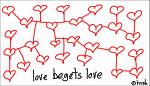 India
June 15, 2007 5:45am CST
hey guys, can u all help me, i don't understand what is love??? coz every individual has his/her own opinion so plz disclose ur opinions over here so that we all can get some information abut love?????????????????????
2 responses

• United States
15 Dec 07
Love is when you appreciate someone despite their flaws. Even better...Love is when you appreciate someone and you can even see their "flaws" as something to be appreciated also, not just tolerated. When a person feels loved, they feel accepted for who they are. The funny think about love is that when a person feels loved and accepted with their so called flaws, suddenly they feel inspired to impove themselves and try to bring themselves up to "the next level". Suddenly their insecurity melts away. It can be an extremely empowering feeling. I'm not an extremely religious person, but if you've ever been to a Catholic wedding, you've probably heard a passage from "Corinthians". I just pulled it off the internet... 4 Love is patient and kind; love does not envy or boast; it is not arrogant 5 or rude. It does not insist on its own way; it is not irritable or resentful; [2] 6 it does not rejoice at wrongdoing, but rejoices with the truth. 7 Love bears all things, believes all things, hopes all things, endures all things. 8 Love never ends. I got this off the line below http://www.gnpcb.org/esv/search/?q=1+Corinthians+13

• India
17 Jun 07
love is a constellation of emotions and experiences related to a sense of strong affection or profound oneness.....love can be also defined as deep affection or fondness........