Do you have any of those wireless solar lights?

United States
June 15, 2007 10:10pm CST
Here's something we did with ours... We planted flowers in large pots, then put in a solar light stick in the center of each. A grouping of these gives some nice ambience to your patio or deck. They don't give off much light, but it makes for some nice (even romantic) atmosphere in the evening to sit out and have drinks by. You don't have to trim around them or get the dog's chain tangled around them or trip over them... put several at different levels.
5 responses


• United States
18 Jun 07
We only got a box of 6 for less than $30. I'd like to have more too, but maybe next year.

• United States
21 Jun 07
Ours said change the batteries once a year. Also the directions say to make sure to keep them out of the shade and in full, direct sun to get the most energy absorption. Did you change the batteries at all?

• Philippines
17 Jun 07
I think that's a nice way to use them! It's be great to have them in our garden too, although I still can't afford that! Anyway, I'm sure there are lots of way to use them creatively, like the one you suggested, and not just along a pathway. It's really wonderful how you can just stick them to the ground and not have to worry about wires and switches and all that.

• United States
25 May 08
I know how great my solar light look. I put some solar spot lights pointing up in one of my trees. It lights up my back yard at night. I would like to get more of them. Ace Hardware had a 3 pack for $20, I should have gotten more of them at that time. I also took 4 white soler light and stuck a 8 foot 4x4 in the ground and put an arm out and mounted a light on the top of the arm. On the bottom I put a hook and now a hanging plant under the light. My goodness it looks great. I find myself out by my pond late at night. I take my laptop out and play outside. - Reverend James, Florida, USA -

•
10 Jun 08
I have two sets of solar lights in my garden. One set of four light up the front path to the house and the other set in the back garden to light the patio and the dark corners in the garden. I have put two of these lights into a planted tub at the back of the garden as it is often a dark corner at night and the lights look great.

• Canada
5 Jun 08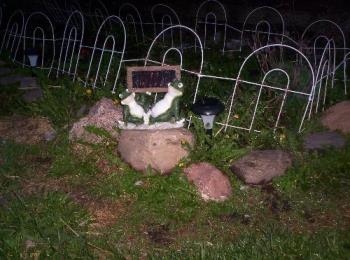 I have several solar lights around my flower beds. I recently purchased a solar light with frogs that says welcome. I'd love to get more. I appreciated them the one day when the power was out, I grabbed one and took it to the door so i could find the keyhole and then inside to find a flashlight or matches for candles. My mom has a whole bunch of awesome solar lights in her flowers.