rizal day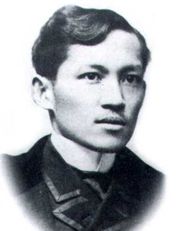 Philippines
June 19, 2007 3:40am CST
its june 19, remember this date, its the day our national hero was born, jose rizal. but do we still remember the great malayan. does his works that helps our beloved motherland to achieve independence still relevant nowadays. does his teachings still applicable to us. do we still know that he's our country's national hero??
3 responses

• Philippines
1 May 08
his novels are classics and depicts corruption which is still the social cancer

• United States
23 Jun 07
I still do. I am grateful to all our heroes especially Rizal and will forever be. One thing I really like about him was his ability to speak many languages. I am a big fan of people like that.

• Philippines
19 Jun 07
My fascination with Rizal began and ended during High School. By college, he was just a topic of some subject that I had to reluctantly take and wanted so much to get over with. Now that you've brought it up, it is sad. I think Rizal has lost his appeal because he isn't purely Filipino (as most of us are anyways) and he wasn't a fighter. Plus I think with so many hardships Filipinos are experiencing, they just don't have enough time to worry or even commemorate our National Hero.