Broken arm.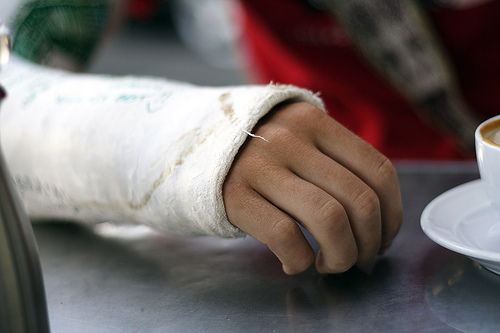 Portugal
June 20, 2007 1:04pm CST
Wow. For the first time in my life, I've broken my arm. I wear cast on my arm. It's so hard to type or move the mouse...Who could ever say that moving a mouse is so painful...Did you ever broke an arm? How did you typed or did you used the computer?[This text took me about 5min to type with one (left) arm. Ouch!]
1 response

• United States
20 Jun 07
I broke my arm when I was in the second grade. That was in 82, before computers were common in households. I didn't have to worry about typing, but let me tell you, it was a pain trying to do normal things like bathe, dress myself, even eat. I had to wear a garbage bag over my arm, so that my cast didn't get wet when I took a bath. ..Luckily for me, it was my left arm that I'd broken, and I'm right handed. Writing wasn't a problem. When it came time for my cast to come off, we couldn't afford to go back to the doctor, so my mom and dad took a pair of scissors and started cutting the cast off. My dad slipped, and got my arm lol.. I cried for a little while but then got over it. ..Oh my gosh, never in my life have I experienced such relief. I felt air on my arm after 6 weeks of being in a cast.