My Neighbors Dog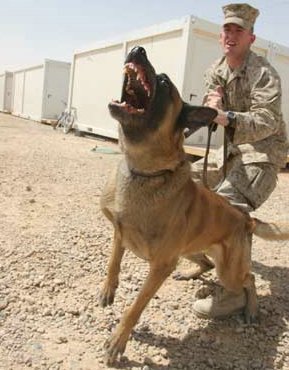 United States
June 20, 2007 10:54pm CST
I made a post not to long ago about my neighbors dog and hows its always on my lawn and everyone elses. so the other day i went to the store and when i came back home i walked im my backyard and my neighbors dog is on my deck (we had just bbq earlier). and my neighbors dog is lickin my deck near where the grill is. so i run up behind him and yell WHAT THE H3LL U DOIN IN MY BACKYARD the dog turns around and tries to run and i was goin pick him up and hold him hostage lol. the dog must of know what i was goin do and just starts screamin like i kicked him or something. it was the 1st time ever in my life i heard a dog scream for help and not even get touched. so what i wanna know is was i wrong for almost givin my neighbor dog a heart attack????
8 responses

• United States
22 Jun 07
You are not wrong for wanting the dog out of your yard. It sounds to me like the dog may not be treated so well at his house. If it is a small dog I could see it getting scared, but from experience most dogs become aggressive if they feel threatend. I have an 8 year old Chihuahua, even if he knows he is wrong for doing something, If you go after him he tries to bite your leg off. I would discuss this with the neighbor. They need to keep it on a leash if it won't stay in thier yard!

• United States
22 Jun 07
don't think they treat there dog bad or anything just think he's a big chicken lol

• United States
21 Jun 07
lmao, i would have been mad about that to.I've never heard a dog scream for help either.Maybe he learned his lesson and wont try that stunt again.

• United States
21 Jun 07
i doubt that dog will ever learn his lesson. he was back in my yard if not the same nite the next day.

• Australia
21 Jun 07
Nah, by scaring the bajeebus out of the dog, it should discourage him from going back to your house! Just wondering why the owners haven't made a harder effort to keep him in their yard? I haven't read your other post but i have had a problem like this before, you need to make it clear to the owners that they have to make sure their dog stays in their yard - if he gets hit by a car then it's no-ones fault but their own - or, you could always do fencing around your place so he cant get in but then that's just a waste of money you don't need to spend. Have a chat with them & if they do nothing, try calling the RSPCA or whatever it's called where you are & let them know you have a neighbour who isn't responsible for the safety of his own dog - that might make your neighbours pay a bit of attention!

• United States
21 Jun 07
i think thats what its goin have to come down to cuz they at like the back on the island and its cool to just let ur dog run loose

• United States
21 Jun 07
LOL, this is funny, maybe he will avoid your yard from now on. The stupid mutt deserved it. Reminds me of the time when my son age 17 was driving our car. This one house we always had to stop and then turn to go home and the dog living at the house on the corner of the stop sign would always come roaring out at our car and give chase. Well this happened for weeks and then my son one day after turning the corner and getting on a straight stetch with the dog snarling after us. Stopped the car and jumped out and ran snarling and growling and stomping his feet after the dog. I never laughed so hard, The dog stopped mid snarl. Eyes bugged out and turned with tail tucked between its legs back to its house. After that it never chased our car again.

• United States
21 Jun 07
i've done a lot of things to try and keep there dog off my lawn. we have a female pitbull and i guess they friends so he comes over and waits for her to come out.

• United States
21 Jun 07
lol this is too funny. i would have done something similar, i actually would have run up to the dog and pretended i was going to beat it while yelling at it. no you weren't wrong, the people really need to keep their dog on a leash...i have a similar neighbors dog which seems to think my front lawn is it's bathroom and it irritates me to no end that they let it just poop in my yard when i have a toddler running around and don't have a dog myself cause i don't want to deal with dog poop. i've been just too chicken to ask them to clean up after their own dog so i guess it's my own fault. sorry to hijack your discussion. you made me laugh.

• United States
21 Jun 07
not a problem that u hijacked it just want people to respond. someone told me to put the poop in a bag and lite it on fire and ring there door bell but im cool with the people so i wouldn't do that. maybe u should try that and tell me what happend lol

• Cebu City, Philippines
21 Jun 07
Yes, you were wrong for giving your neighbor's dog a heat attack. hehehehehe lol. Just joking. Of course i would also feel the same way and would chase the dog but I cant kick him coz I love dogs. I even love the ugly nameless dog that our laldn lord owns, I love to call him dogie and he comes around waggling his tail with happiness.

• United States
21 Jun 07
lol i didn't kick him just wanted to do a lil kidnappin but he screamed for help and i let him run home and i was to busy laughin

• United States
22 Jun 07
NO WAY!!! I would have done the same thing. Also you need to talk to these people about there dog. If they wont listen call the humaine society or animal control. The people can get in big trouble for letting there dog run free.

• United States
7 Jul 07
That's a funny story! The dog probably wanted some of the BBQ drippings. Those neighbors might get mad at your *LOL* dog abuse. Maybe you can get a restraining order?