Feeling sleepy at work, what will you do?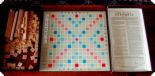 Philippines
June 21, 2007 4:14am CST
When feeling sleepy at work and have to brighten my day i would have take a minute of games....this are called games for the brain, actually i have lot of them...i played like checkers, spead type, guess the color and etc...it awakes me and taking the chance to play with my computer was a lot of fun i tell you. I have a big smile when i defeated the computer...i made it...yehey..really it was so fun.What i like it most it the speed type because it enhances my typing skills.I still remembered during my pregnancy period i would indulge myself on scrable game during noon break as if my days is not complete if i couldn't have the chance of playing it.How about you guys how do you entertain yourself to avoid being sleepy at work?
2 responses

• Philippines
23 Jun 07
I usually surf the internet every time i get bored in my work. Mostly i replied and make discussion here... I am not really good in mental games but i know how to play it. Sometimes it also get me bored in playing mental games maybe because i am mentally poor... lol... My other option aside from surfing the net is making fun of my office mate and he do the same thing to me...lol... It is a good ice breaker for us though sometimes he get offended:) I ask for sorry after...lol...

• Philippines
21 Jun 07
Sometimes i just visit mylot and friendster site to know the latest from my friendlist.Sometimes i vividly listen to the music and singing to myself.