Are your innerwears branded?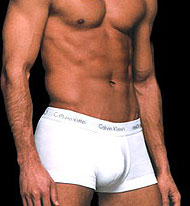 India
June 21, 2007 9:25pm CST
Do you believe that good quality innerwears add to the confidence? As they show in ads, branded innerwears add to the comfort as well as the confidence of people. Do you think so? Have you actually ever felt that way? I generally wear innerwears of brands not so renowned but i never feel the difference. What is your opinion in this?
3 responses

• United States
22 Jun 07
Omg! That is possibly the funniest picture I've ever seen! I would prefer not to wear underwear... or anything else, for that matter. Unfortunately I've got what I've got... and no one wants to see it! There is nothing funnier to me than Parts-Enhancing men's undies!!! Oh my word! I do, however, enjoy looking at Victoria's Secret catalogs. "Just for the articles, of course!" ;)

• Philippines
22 Jun 07
I rarely buy branded underwears. Why should I?My salary is not that high, so I can't afford to buy branded stuffs. Besides, I wear underwear not to let other people see it and eventually brag about it. I don't totally agree that wearing branded ones gives us more confidence and comfort. I have a number of ordinary underwear and I still feel comfortable and confident wearing them. Wearing branded stuffs doesn't matter to me, as long as I am wearing it clean and in good condition.

• United States
22 Jun 07
I do think that wearing good underwear gives you confidence. I don't necessarily think it has to be a big name brand... but good material that feels nice and looks pretty.