earn Money?

Malaysia
4 responses

• India
27 Sep 07
Just post as much as you can here, reply to as many discussions as possible and start a few discussions. Remember Quality and Quantity both matter here to be earning maximum from MyLot. Make some friends here, add them to your friends list so they will be replying to your discussions and you will earn more by that. There are many tips that can help you increase your earnings to the maximum on MyLot, you can find out all about MyLot on my blog. I've listed all the tips and reviews about MyLot on my blog, visit my blog and follow the tips given there and you will earn fast here. Here's my blog link http://hotmoneymakers.blogspot.com/

• United States
22 Jun 07
You make some quality posts and some pretty good discussions, that should actually help you out a bit. It can take a couple days or less depending on how active you are exactly. Just be patience, it'll come by before you know it. That's all I can give you on advice.

• United States
22 Jun 07
I have only been posting here for two days and earned more than a penny per post. Not sure exactly how much per post, but I made 83 cents for 27 posts. So if you try hard you might be able to earn more.

• United States
22 Jun 07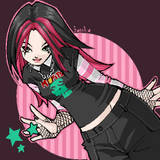 What you need to do is respond to as many discussions as you possibly can. Rate every discussion you respond to. Also post images if you have any. You do earn from posting images.