Do your kids have a really cheesy smile?:)

United States
6 responses


• India
23 Jun 07
Very funny and lucky to have such a sweet baby. My little one also has a cute smile and when he laughs it hears very cute and sweet tone he has.

• United States
23 Jun 07
Yeah, I love my little one's laugh, it's so adorable!lol! it sounds fake its so darn cute!! gotta love it!

• United States
22 Jun 07
My sister did when she was a child. My dad has dimples when he smiles, and one day my mom noticed my sister was smiling very strangely. She was making her smile so wide that her cheeks would pull back, just to get dimples and look like my dad. We have several pictures of it. Very cheesy, but very cute. : )

• United States
22 Jun 07
That's adorable!! heehee. Gotta love the cheesy smiles!! I love dimples!

• United States
23 Jun 07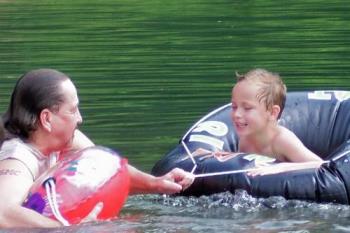 I have included a photo that I took yesterday, while we were out swimming at the Buffalo River...it shows my husband and youngest son playing in the water...my son is smiling from ear to ear while he is playing with his Dad...

• United States
23 Jun 07
that is a GREAT picture!! aww I love it, and it looks like fun!!! :)

• United States
25 Jun 07
My daughter has a great smile- when it's not forced- I love it- But when she is smiling for pictures- she is a dork- It's this big fake smile- I always tell her prior to going to school- to just smile naturally- and she always says she does- then the pics come back- and lol- it's hilarious! All staged pictures are like this for her- sports, band- etc. so yes she has a cheesy smile also!

• United States
24 Jun 07
My little girl has the craziest smile. I always call her the joker (like the one in the old Batman series) because she looks like she has way more teeth in her mouth than she is supposed to! So, for school pictures, I always have her practice her smile...doesn't work though, she has brought home some real doozies for pictures! HA! Oh well, we will laugh about it when she gets to be 25 or 30!