Pepsi or Coke???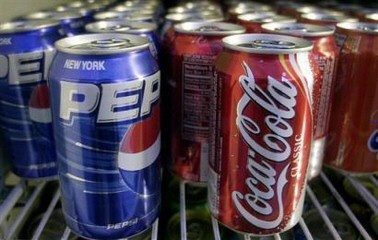 Italy
June 23, 2007 7:47am CST
What do you prefer? I really prefer the original Coke! Not Light..it has a bad taste
7 responses

• India
23 Jun 07
i like coke coz pepsi has a sweet taste and coke tastes better


• Philippines
23 Jun 07
i like the taste of the original coke. not the light or the diet one. i love coke better than pepsi.

• Philippines
18 Jul 07
I prefer coke the original. I like the taste, it's more concentrated than pepsi.

• Malaysia
7 Feb 09
hmm i guess i'd have to go with coke. i don't really know what's the difference between pepsi or coke anyway. if there place that i am at doesn't have any cokes then i'll go for pepsi, no biggie.


• United States
23 Jul 07
I like both coke and pepsi I know a lot of people hate pepsi but love coke or hate pepsi but love coke but I dont see the difference well except that coke has more sugar then pepsi other then that it still has the same taste at least to me it does even though those arent my first preferred choices I perfer sprite I still like them very much.