M&M Dark Chocolate: Addams Family Adverts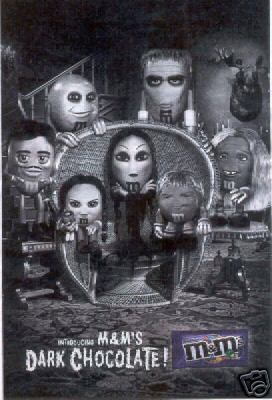 United States
June 24, 2007 11:46pm CST
Have you seen the new Addams Family promos for the dark chocolate M&M's? I saw in this weekends newspaper and almost fell off my chair. The creative team at M&M have come up with some great marketing gimmicks in the past (most notably Star Wars) but this one is awesome! Why didn't they wait for Halloween to roll around for this promo!!!
5 responses

• United States
25 Jun 07
you and me both-my mouth dropped. they did a great job making it look like the series. makes me wanna go get some :)

• United States
25 Jun 07
cool-i'll go take a look.

• Australia
25 Jun 07
Well I don't think I will get to see it as I don't live in the States but it sounds good. I only responded to this conversation because I saw some favourite words of mine - M&M's and dark chocolate. Yum!

• United States
27 Jun 07
I just saw the commercial for this last night. It was a cute one and I agree, I would have done it around halloween time. I don't think I will buy any because I don't like dark chocolate but my boyfriend does.