Sibling bonding

United States
June 25, 2007 10:37am CST
I am an only child, I have two children and one on the way, I have always wanted a big family, my oldest is 3 and a boy, my daughter is 9 months. It really warms my heart and makes me smile to see the closeness between my two children. My son is so sweet and good with his little sister. They really love each other and know they are family. It is great for me to see this bond. As I have never experienced it before so firsthand. I love it! Isnt it great when your kids get along? Seeing them play so happily to gether is one of the greatest feelings, do you agree?
8 responses

• United States
25 Jun 07
It is amazing to see how well siblings can bond. It also reflects great parenting!! I am not saying that siblings that have issues had bad parenting, but I do believe it does have a factor in it. Sounds like your in parent heaven! Good luck with #3, I know several families that have a large number of kids and even when they have 7 or even 13 kids they all still get along famously.

• United States
25 Jun 07
My husband and I want as many children as we can have. We are fine with however many we get. I have many friends that have large families. Fun to see someone with 13 kids that are all well-behaved and very sweet to each other. I can only pray that I am blessed with that many!

• Palatka, Florida
25 Jun 07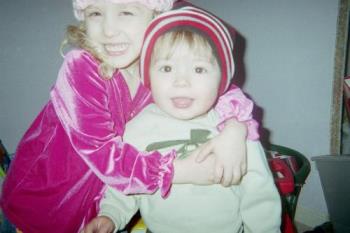 I have a younder sister but we are almost 7 years apart. I mean we got along but my niece and my nephew seem to bond better because they are closer in age she is 4 and he is 1 he'll be 2 this August. They have their little fights but if my sister trys to punish my nephew my niece will say leave him alone he's still a baby.

• Philippines
26 Jun 07
i agree with you. i have an older brother and its sad becuase we dont get along with each other. i always wanted to have a brother or sister that i would lean and depend on. thats why im always envy seeing siblings that get along, having fun adn spending time with each other... if i could only turn back time...

• United States
29 Jun 07
I know what you mean (kind of) As an only child I never knew how it was. I am seeing it all for the first time through my children. And I vowed to give my kids siblings, as I never had them and I knew how lonely an only child life is. Also, with both of my parents deceased it is hard with no one close to to lean on. I know my kids will always have each other and that makes me happy! =) Thanks for sharing, Remember it is never too late! =)

• India
26 Jun 07
Amazing, shock to know how children bond together....Truly Family situations under which I was brought show just enmity and just jealousy.......sometimes you fill so...lonely...

• Philippines
26 Jun 07
That is so lovely about your children how they're so closed to one another. In my siblings cases, we're 4 altogether with my elder sis and 2 more younger bros. We do have fun together and me and my sister as the ones who are more closed in our family also with the presence of our lovely mom whom we treat as our big sister in the house lol :-)

• Philippines
26 Jun 07
Yes, nothing is more pleasant to see than your kids getting along well. But sometimes, it cannot be avoided that they have a few squabbles here and there. I have 3 kids and they have their share of fights. But when I see them playing, I smile to myself. I picture them that when they grow up, they will be the best of friends.

• United States
25 Jun 07
I have 16, 13, 2, & 10 months. The 16 & 13 yr old fight constantly when in the same room together. I wish for once they would get along...at least for one whole day to give me some peace. Then I have the 2 yr old and 10 month old that are usually together, but my 2 yr old is mean to him. He won't let him play with toys, he takes everything away from him. He tackles him to the ground and lays on him. Pulls his hair, hits him, kicks him, knocks him over....and the list continues. I am on my toes constantly unless they are napping and I sound like a broken record. Be nice to bubbers, you can't hit him, you can't lay on him...you can't do this or that...over and over... Now that the baby is starting to walk I think it will be a little different. I have noticed my 2 yr old starting to play a little better with him and allowing him some toys. I think once the baby gets going a little better on his feet them 2 will bond better and be like twins almost. I am hoping anyway. I think you got lucky with your kids, usually the toddler will be jealous and tend to hurt the baby as in what I go through. Hopefully your baby will do the same as your son and bond with the new baby.

•
2 Jul 07
It is so wonderful to see your children playing and interacting so well with each other - but do be prepared - they will have their fights too , no matter how much they love each other! My kids fight sometimes but when I give one a row the other one sticks up for them! xxx