Little ones and their vast array of boo boo's!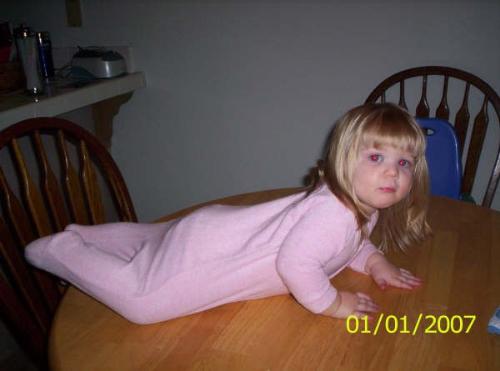 United States
June 25, 2007 2:13pm CST
My daughter is amost 2. She is very much like a tomboy and always has scratches and scrapes. It doesn't seem to phase her either. She will only cry for a minute or two and most times doesn't even cry, she will just continue whatever she was trying to do to begin with. So this weekend I was having a yardsale and she was playing with one of the toys I had out to sell (funny, I was selling it because they never played with it). Anyway, she fell forward and didn't catch herself in time with her hands. Her face hit the cement. I scooped her up immediatley and started to dr her. She seemed okay, calmed down rather quickly. Then 5 minutes later her face started to swell up. Especially around her nose. I thought she had broken it. Fortunately, after an ice pack and checking it out, the swelling went down and I could tell that it was not broken. The next day there was nothing but a scratch. I was feeling so horrible when I thought that she might have broken it. I wanted to cry. I was also afraid that when I took her to the hospital that they would say she was being abused. (I didn't end up having to take her to the hospital, thank goodness). My son was always so careful and wasn't much of a risk taker when he was younger. She on the other hand is very daring, climbing on everything and chasing things around, etc. What kind of things have your kids done that have just scared you to death? Have they broken anything or seriously damaged anything on their little bodies? Share your stories with me.
1 response

• United States
8 Jun 11
Hi. jchampany. My oldest daughter used to get so close to the television, that the television fell on her really hard. I was so terrified because I thought that she may have broken some of her bones in her body.

But she didn't. The television was very heavy and it fell hard down on my daughter. I hope that this never happens again with any of my other children either. It is not your fault that this has happened to your daughter at all. I am glad that she is okay now.