veggietales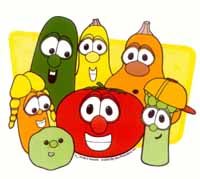 United States
5 responses

• United States
25 Jun 07
Wow! I remember VeggieTales! I actually used to watch them when I was in youth group. I never really thought about showing them to my son. If I can find any of my old ones, I would definitely show them to him. They're very friendly, fun and I don't have to worry about anything. Plus, they have another video series for a little older kids. It's called 3-2-1 Penguins. Have you heard of it? It's really funny and cute, but not quite as young as VeggieTales.

• United States
25 Jun 07
no i have not heard of the penguins my daughter loves penguins i have to look that up thanks for commenting

• United States
28 Jun 07
I didn't even know they aired the Penguins on TV! I would watch it if we had cable! It's nice to know that there still is some wholesome stuff for my son to watch when he's old enough! :)

• United States
28 Jun 07
My daughter used to,when she was younger.The only time she watches the veggietales show's now is when she is assisting me in teaching a MOPS class.

• United States
25 Jun 07
We have just one of the DVDs...We have the one with the bean in it. It is soooo HILARIOUS!!!! I even enjoyed it!!! Are the rest as funny? I was thinking of getting more, my 2 boys enjoy the one they have. I think a reletive got it for them for christmas.


• United States
30 Jun 07
My niece kind of likes it. She dont watch it much. But if I turn it on, she will watch most of it. She really isn't into to much Tv though. She does have a CD of there songs that she just loves. (& I just hate listing to that stupid thing over & over again every single time we go to the store:)