I'll be missing you all, myLottians!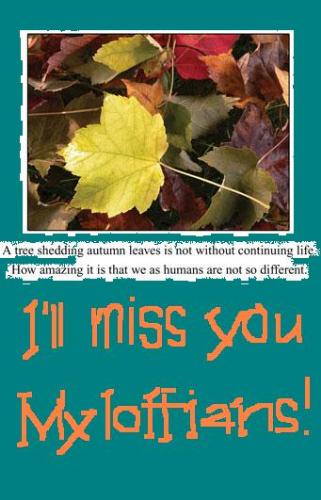 Philippines
June 25, 2007 9:12pm CST
A lot of people here started discussions concerning... what was happening here; photos disappeared, discussions deleted... etc. I have spent most of my time here, posting topics/responses... and I will miss this if myLot is dead. I hope myLot would fix those problems.
3 responses

• China
26 Jun 07
oh i have not yet experienced that...is it happen? maybe they are just updating....

• Hong Kong
27 Jun 07
I don't think mylot is dying, I think that some of the people might have broken the rules and that's why things got deleted. I think one of my responses yesterday got deleted "mysteriously" too as I remember I hadn't really answer something sensitive yesterday which might break their guidelines. Anyway, I don't really care that much as long as I could still log in and enjoy conversations around here.

• Cebu City, Philippines
26 Jun 07
Well, its sad to think about mylot dying. All we could do is to comtinue our posting activities here and not think about bad possibilities of closing like other earning sites.