whats the config of ur pc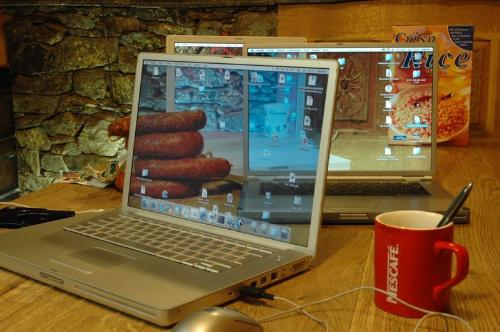 India
June 25, 2007 10:56pm CST
ram? harddisk? OS? year of mnf? and everything u know abt it.. i have P4,512 ram, 120 gb harddisk, 1.7 ghz, 5 yrs old, mercury motherboard, LG monitor, TVS gold keyboard, no graphix card :(
2 responses

• Malaysia
26 Jun 07
I'm using an Intel Motherboard, P4 3.2 GHz, 1G DDR3 RAM, 120GB hard disk, 1 yr old, 32" monitor (latest addition), 256 RAM 256 Pixel ATI graphic card, Logitech Keyboard+Mouse, ALtec Lensing 2.1 Subwoofer speakers and a creative soundcard.

• India
26 Jun 07
hmmm..pretty good config man!! i like ur ram n monitor .. and altec lansing is the best co. for speakers n woofers.... good one

• Malaysia
26 Jun 07
Yup i'm really satisfied with my comp. I just bought the LCD Monitor last month. It really cost me a lot. Altec Lensing is the best. You should really get one for yourself.

• India
27 Jun 07
my acer laptop config is AMD turion 1.6GHz Duo core 64,1GB DDR2 RAM,ATI 1100 Gfx with PS2.0,Dual layer DVD writer,120GB HDD,wi-fi,card reader,bth,integrated WEB CAM. my pc config is AMD Sempron 1.6 GHz 2600-512MB RAM-nVidia GF 6200 256 AGP Card 80GB HDD-DVD Combo-Flat monitor 17"-creative 2.1 Speakers