would you tattoo this on your body?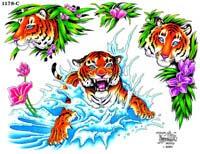 United States
June 25, 2007 11:19pm CST
My brother want's to have this tattoo put on his arm, but has been putting it off for months now because he is unsure about the picture. What do you think about it? Is it a good choice or should he keep looking?
2 responses

• United States
26 Jun 07
I can't see your picture, something is wrong with it. But if your brother is unsure about a tattoo, he shouldn't get it until he's sure. Or he shouldn't get it at all. A tattoo is for life. He needs to know that it has to be something he'll want on his body forever. It's not something you do on a whim. Is it in a very visible place? That would make the decision harder too. If it's not, it's easier to be "okay" with it for life. But if it is, then he needs to make sure now!

• United States
26 Jun 07
Huh that is weird it loads just fine on my computer, I change it just in case, I see where your coming from though, I've told him the same thing a million times but he has been trying to find one he likes forever and this is the first one he liked enough I guess.

• United States
26 Jun 07
I can see it now! Tell him to at least wait a while. If after a month, he still likes it then go get it. Has he tried designing one himself? or he could give an idea of what he wants and the tattoo artist will draw it out for him.

• United States
4 Jul 07
Good advice, You must have at least one tattoo i'm guessing?


• United States
5 Jul 07
Taste differs from person to person. I wouldn't get that tattoo, but if your brother likes it, then there's no reason that he shouldn't get it, especially if he's been thinking about it for months. One thing you might suggest to him is to take that design to a tattoo artist in your area, and ask if the artist has any advice or suggestions. The artist's ideas may be just what your brother needs to make his decision. And tell him that tattoo artists may seem a bit intimidating at first, but if you talk to them, they are pretty nice people. :)