Cutest Thing Your Iguana has ever done.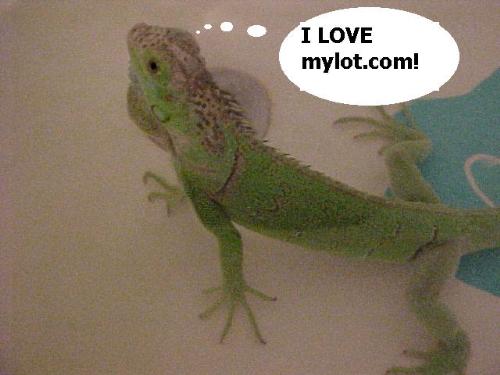 United States
3 responses

• Jamaica
26 Jun 07
hah, funn, i dont have anypets lizard. im actually scared of lizards, well not really, i just dont want them to touch me. but at he zoo, they let me touch an iguana, and it was pretty cool. any way, i had a hampster that was able to open its cage and escape. what he did was, bite he bars and lift the door. then either quickly put its head under it befor it closes, or uses its front paw to leave a little apace then the door drop so it can lift it with its head. escaped and alsomt bit my dad one night.

• United States
14 Jul 07
Wow, that is pretty darn amazing! My iguana Alex lives on top of his cage. He climbs down, goes to the door to be let out, does his pooping outside, basks in the sun and when he wants in he will come to the door and scratch on it. I open the door and then he takes his time about going over to his cage! He will then climb up on his cage and start looking all around. He's waiting for his treat!

• United States
15 Jul 07
I think that is the most adorable thing!! How did you train him to go outside to go to the bathroom? That's just awesome. Do they move slower when they get older? Mine is so fast right now. I couldn't imagine letting him anywhere where I wouldn't be able to confine him easily, for fear that he would get away.

• United States
15 Jul 07
Alex is very fast when he wants to be! I ran some errands earlier and came home to find him waiting by the front door to be let out. He loves it outside. His cage is in the florida room and he won't go any further than that room. He also goes outside. What I think is pretty cool is that when I say his name a few times, he will look around until he finds my voice and track me with head and eye movement. I didn't think that an iguana would make such a good pet...

• United States
26 Jun 07
That is too funny. My iguana tries to escape out the top of his cage sometimes, but can't do it because I have heavy books on top to prevent that. The top is made out of wire mesh though, and he will hang from it quite often. Looks rather silly. I think the cutest thing my iguana does is eat. I think they look so adorable when you're hand feeding them.