My son's birthday today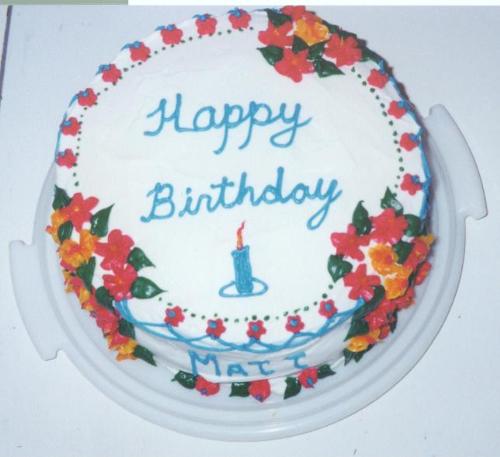 Philippines
June 26, 2007 4:53pm CST
It's my son's 22nd birthday today and I'm thankful for this added year in his life. We will just have a quiet celebration at home. My daughter late last night, prepared balloons and set up the birthday greeting prop in our living room. We also got him a gift...a sports shirt which he can use for his badminton games. You see, he loves to play badminton, hence the choice of the gift. We're planning too to eat out tonight. For lunch, we will prepare some special foods; we also bought a birthday cake for him. This is just a simple celebration for his birthday. This afternoon, we're planning to hear mass as a thanksgiving...my son is a professional google advertiser/publisher, and his place of work is at home with the internet. What about you guys, how do you celebrate your birthdays?
4 responses

• Philippines
26 Jun 07
Happy Birthday to your son maam.. I do wish him all the best in life. I do celebrate birthdays too. I treat my whole family to dinner and chill out after..That depends on where they'd wanted to go.. ;) Godbless to you and your family. ;)

• Philippines
26 Jun 07
Hello! happy birthday to your son! Well,for me i don't celebrate my birthday. The last time i celebrated it,was on my 11th birthday and i'm 22 now. Last April,i celebrated it all alone,.heheh..i just went to church and thanked the Lord for He had given me another year to live. Thank you.

• United States
27 Jun 07
Well a glorious Happy Birthday to your son..I bet those years seem like they wizzed by... While I may not be too crazy about the aspect of getting a year older, I do celebrate my birthday...as I see it as a celebration of my existence. So I go all out...I will buy a special birthday card for myself, a balloon, and I love to make a special dinner for myself...I do love to cook, and I even make some kind of special gift for myself...last year I made a special Teddy Bear for myself (yup--know how to make) and even did a watercolor painting...Every year I've done that...and for the life of me can't remember when I started this tradition!!

• Philippines
27 Jun 07
Wow, I really learned something from you there...guess I'd give it a try too, he he he. Cheers!

• United States
27 Jun 07
I celebrate my birthday the entire month of February. Every day I do something special for myself, even if it is just some small thing. February is a gloomy month where I live, very little daylight, lots of coudy rainy or snowy days. So I spread the treats out over all 28 days. Several of my friends know how I celebrate the month and they send me several cards throughout the month. My partner has a bunch of little gifts and some days I might find one at my place at the table or on my pillow at night or some other place throughout the house. They range from a little pad of humorous postits to pieces of clothing in my favorite color to something more expensive. We always go out to eat on THE day. It helps me keep the seasonal depression away. Happy Birthday to yur son!

• Philippines
27 Jun 07
That's a unique way of celebrating your birthday! Cheers!