Calling all nascar fans!!!!

Canada
June 26, 2007 11:18pm CST
Do you follow the motor sport of nascar? Who is your favorite driver? Have you ever had the chance to attend a nascar race in person? I love nascar and i always follow Dale Earnhardt sr. and since his passing i have been following his son Dale jr. I have yet to go to a nascar race but i am hoping to someday.
4 responses

• United States
29 Jun 07
I am a huge Dale Earnhardt Jr fan and have been since he was racing in the Busch Series. I also followed his father until his untimely passing. I live in Georgia so I go to the races at Atlanta Motor Speedway. I stay camp out infield for the entire weekend, just inside turn one and right at the fence. It's awesome!

• United States
29 Jun 07
I used to love Nascar- I have been to Watkins Glenn twice in my life during the race- I was a huge fan of Jeff Gordon when he first came out- Loved him- He was great fun to watch- and I loved how the other drivers didn't care for him- including Earnhardt Senior- I was never a fan of Dale Earnhardt Sr.- Be interesting to see Jr. and Jeff on the same team this coming year- Still competitors as Jr. says—but let's see how well they work together-

• Malinta, Ohio
27 Jun 07
I am a Micheal Waltrip fan. He hasn't done too good this year but things will work out. I loved watching Dale Earnhardt Sr race. I would love to go to a Nascar race someday.

• United States
27 Jun 07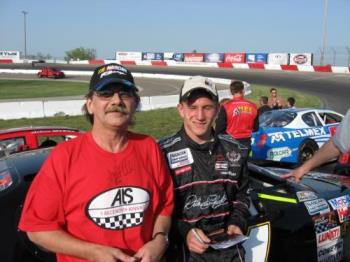 Here's a great photo for you. It's me and Jeffery Earnhardt. he is Dale Sra 17 year old grandson. I attend a lot of NASCAR races at a few different local race tracks near my house. He was here for a big race called the Minnesota 150. he did lousy but I did meet him and chat with him for 15 minutes. I have a discussion somewhere I started about that experience as well. Heres the photo anyhow. I love NASCAR Short Tracks in my area. http://elkospeedway.com/ http://goracewaypark.com/index4.htm My favorite driver is Greg Biffle. HAPPY POSTINGS FROM GRANDPA BOB!!~