In your company where you work, do they recognize loyal workers?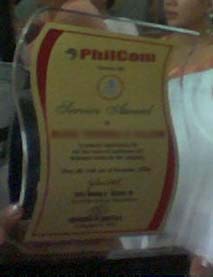 Philippines
June 27, 2007 5:29pm CST
I received my plaque last December. Our Company often gives incentives to those who are loyal to serving from 5 to many years of work. Other companies I know even offers travel packages or special jewelries. Some are with cash and some in kind. Can you share what you companies does with loyal employees?
6 responses


• India
1 Jul 07
I a mca graduate. I joined as a lecturer in an computer teaching college. Now I am assistant professor in that college. I am going to become Professor next year. My college promotes its loyal works by promoting them to better positions.

• Philippines
1 Jul 07
Good luck on your teaching career. It is a great feeling to be promoted. God bless!

• Indonesia
30 Jun 07
Nothing. I see that loyal employees are employees who always agree with director need altough it was a bad action or unlogical action. Sorry I can share a god situation. Thanks.

• Philippines
1 Jul 07
Thanks for sharing your ideas. I think loyalty can mean alot depending on the perspective we are referring. Thanks and God bless!

• United States
29 Jun 07
Most of the companies I have worked for give you a pin or piece of paper saying congradualtions you have been with us for x amount of years. There are some companies that give you a bonus but they are far and few in between. It seems now days all companies are interested in is the bottom line and what you can do for them. They don't want to do nothing for you. You work for a paycheck and if you do anything extra that is on you because very seldom is it appreciated by the company.

• Philippines
1 Jul 07
It is great to have appreciative companies. Bonuses can mean alot for the employees receiving it. Thanks for sharing your views. GOD bless!

• Singapore
28 Jun 07
i think we get long service awards. some cash and a plaque i think. but I'm nowhere near yet... gotta keep working!

• Philippines
1 Jul 07
Here it start with 5yrs, 10yrs, 15yrs, all divisible by 5. LOL. Each length of service receives cash depending on how long is the service tendered. Let's keep working. GOD bless!

• United States
27 Jun 07
You know I dont think they do we have some pretty loyal workers here which I am one of them im one of the only ones that dosnt mind doing carts and im one of the only ones that actually do it and thats and important job where I work but I dont reconize what so ever because im out there for like a few hours at a time would be nice if I got a raise for doing that.

• Philippines
27 Jun 07
I think if they do recognize loyal workers like you production can be doubled. Most of our employees here are awarded with cash and plaque. I think it can motivate workers. God bless!