Expectations - What's worse ...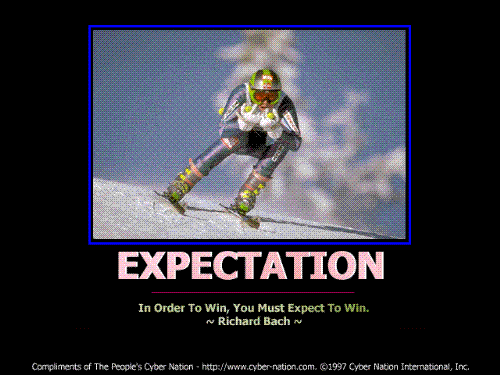 United States
June 28, 2007 9:59pm CST
What's worse... having expectations that are too high, or having no expectations at all?I think it would be worse having expectations that are too high. When you have really high expectations about something and when you get it or see it and you don't get what you expected than you are greatly disappointed! If you have no expectations for something then you can not be disappointed when you get it. That is why I would rather have no expectations at all about something. One such example for me was my high expectations about Spiderman 3 which I was very disappointed once I saw it. I think this has been happening very often with movies, they give you very high expectations and then they disappoint you. I hope this does no happen with the Transformers movie;-) P.S. Remember that I always comment ALL responses and I always rate ALL response + (positive). Please, return the favor:-D Thank you very much!:-)
5 responses

•
29 Jun 07
Having NO expectations??? Are you serious? Then how can you achive anything in life?? If you never want anything? I always set my expectations really high because if I can realize at least 50% of them it means I'm doing well.

• United States
30 Jun 07
No no Liana, I am not talking about aspirations, I am taking about expectations. You do not expect anything to be good or bad. You still want to achieve things which is what your aspirations are, your goals in life. Sure you can expect to achieve them because that is good, but what if you never do? Thank you for your response :-) Rated +.

• India
29 Jun 07
Hi Resguy, I do agree with you that we should not keep high expectation on any matter. We should only anticipate about what will happen and we should expect that this should happen. Anticipation is not expectation. Anticipation have the basic of both expectation and disappointment. I used to anticipate and never expect because once we expect that we are definitely hoping that would definitely take place whereas if you anticipate, even if a particular expectation does not take place, then you would be disappointed as anticipation has the provision for disappointment.

• Australia
29 Jun 07
Hello,resguy,i do not like to set the expectations too high that i know i cannot meet them,i am realistic,i will have suitable expectations to different things. Some people even say if you do not have any expectations,you will always be surprised and have good feeling no matter what happen. When i am watching movie,i will try to enjoy in them rather than having any expectations before i watch the movies.

• United States
29 Jun 07
That is a very good way to live your life with no expectations :-D It is always nice to be expecting something though otherwise you will never have any curiosity or be anxious for anything ;-) Sometimes having some expectations are good, other times not so much so I see what you mean with 'i will have suitable expectations to different things'. Thank you for your response :-) Rated +.

• Pakistan
29 Jun 07
i think that the worst of these is having expectation that are too high, because i think if one has very expectation and it is not fulfilled then they get really angry.

• Bulgaria
29 Jun 07
Well, a dose of realism and balance between the two polarities is o.k. I try to analyze the situation. I am prone to be a pesimist. I subconciously expect to be disapointed. What if wrong, of course. I need to practice some more positive thinking. But to have less expectations is better at all...you can allways been pleasantly surprised.

• United States
29 Jun 07
Yeah I totally agree with you and unfortunately I always ten d to lean toward the pessimistic side of things. Don't even realize it but some of my friends say I do :-P I agree that having lower expectations is the best because if you expect it to be bad but it is good than like you said it is a nice surprise. You have nothing to lose if you expect the worst hehe. Thank you for your response :-) Rated +.