For those that aren't good at cooking....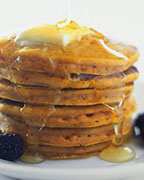 United States
June 29, 2007 9:46am CST
Are you afraid to try to cook new things on your own? I've never really been good at cooking. I can make simple things. I make a lot of stuff that is frozen just needs to be popped into the microwave or toaster oven. LOL I can also make pasta and salads which are pretty easy. Sometimes I want to try to make something more complicated though. I've really wanted to try making pancakes this week, but I am too nervous to try it. I guess I just don't want to mess up and waste the food. I think the hardest part about making pancakes is the part where you have to flip them. Maybe I'll ask my mother to help me make pancakes this weekend. I'd feel less nervous about it if she was helping me.
2 responses

• Australia
30 Jun 07
I do hope you give the pancakes a try. With cooking, i find it just a matter of practice. One step at a time. When you do the pancakes, make them small at first so they are easier to flip. Once you have the hang of it, start getting bigger. And if it doesnt work, dont give up, try again. Best wishes to you, kythe, and happy cooking

• United States
29 Jun 07
I know exactly how you feel. I cant cook either. If it doesnt go in the microwave then I don't know how to make it. I mean I can boil water but thats about it. I try to make things but I usally end up burning them or messing it up somehow. The only thing I am really good at making is omlets. I learned that from my mom. I think it is a good omlet gene.