Finally here is the picture of the flowers.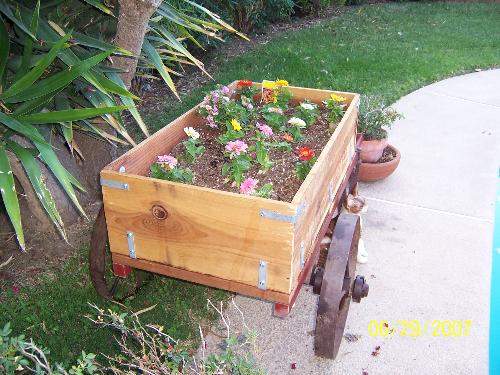 United States
June 29, 2007 10:02am CST
The last post was just a teaser. I forgot to add upload the photo, silly me. Here is the picture of the cart of flowers that I promised you yesterday. I took these pictures this morning. I put in several colored zinnias and one lantana which is pink to me but purple to a friend. The tag said multi colored. I have the cart sitting on one edge of my pool under a yucca plant in my yard. I do not like the yucca plant and want to get rid of it. One of these days I will get my saw out and cut the sucker down.
6 responses

• United States
30 Jun 07
Oh you're so lucky to have a real honest to goodness garden--I'm in an apartment and I do have some hanging plants, but it's not the same as having a real garden...And that was such a great idea to have that cart transformed into a little flower spot.. I do plan to move someday...visualizing myself in a wonderful home with lots of land with a garden area...then I can plant to my heart's content

• United States
5 Jul 07
Unfrotunituly we most of the new homes built here in our town are built on top of each other without room for yards. I would not want a home that you have can hear you neighbor fart. Our home was built in 1970 and we have a nice size yard. I love to putter in it.

• United States
7 Jul 07
Oh you're priceless.....hear a neighbor fart? Or worse, smell it? teeehee--I wouldn't want that either


• United States
5 Jul 07
I am lucky to have the room for flowers. I also have flower pots in the west side of the house which I have cucumbers, cantalopes, and squash growing.

• Malaysia
4 Jul 07
I like the flower cart with lovely colored zinnias a lantana in it. I used to plant flowers with rectangular wooden enclosure and never thought of having wheels underneath. Your husband had created a mobile land which could be moved else where so as to get sunlight. It's a great idea and I really appreciate it. I think I would pester my hubby to make one for me lol…

• United States
5 Jul 07
The flower cart was a mothers day gift which my hubby came up with the idea by himself. It took him a while to build it but he did a good job.

• United States
30 Jun 07
That looks really nice with the flowers in it. I've got to talk my boyfriend into making me one now.lol. I don't know anything about a yucca tree so I gotta ask....whats so bad about it?

• United States
5 Jul 07
I do not like where it is placed and I just do not like it. If it was put in a cornor it would look good but not in the middle of the yard.

• United States
29 Jun 07
Thanks I feel the fool now after my rresponse in the other discussion. Thanks bunches. Now Grandpa Bobs reputaion is marred. Hmmm? HAPPY POSTINGS FROM GRANDPA BOB !!~

• United States
30 Jun 07
I have not read it yet I will have to now. LOL Oh well we are frineds I will forgive you in ten or 20 years. LOL

• Canada
29 Jun 07
Wow, that's a gorgeous cart! You've got a good combination of colours in all the zinnias. And lantana is one of my favourite little flowers, I don't know why, I just think they're cute. I put together a small hanging basket this year with red and orange lantana and some red and purple verbena, it goes well together.

• United States
30 Jun 07
I was looking at some verbena today at Lowes I almost bought some. I do agree the lantana and the verbena do look good together. Our Lowes had yellow, purple, and the red/oragne lantana. I was lucky to get the pinkish colored ones the other day. Yayaya